Teej Festival
Introduction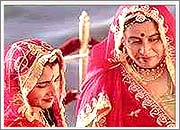 A unique festival for women, Teej is primarily celebrated in Rajasthan, Punjab, Haryana, parts of Uttar pradesh and Bihar. Teej festival is dedicated to the re-union of Goddess Parvati with Lord Shiva. Mostly celebrated among women, Teej festival is celebrated for longevity and well-being of husband and children.
Long swings decorated with flowers, colorfully dressed young girls and women, glittering jewellery, delicious feasts, tough fasting, religious processions and songs & dance mark the gaiety of Teej festival.

Teej festival is celebrated with much enthusiasm. Falling on the onset of monsoon after a long season of oppresive heat, Teej festival in India is also known as 'Sawan Festival'.

When is Teej Festival
Teej festival comes on the Hindu month of Shravan (July-August) and also in early September. The dates of celebrating the festival change every year according to the arrival of the monsoon. There are three kinds of Teej festival :

Haryali Teej
Haryali Teej is celebrated on the beginning of Monsoon season. Haryali means greenery, so Haryali Teej is associated with good harvest and prosperity. On this day women dress up in green coloured clothes. They worship the Moon, Lord Krishna and Goddess Radha.
Kajari Teej
Kajari Teej is celebrated on third day of the dark half (Krishna Paksha) of Shravan month in Hindu Calendar. On this day women gather to sing devotional songs and worship neem tree. Special procession is also organised to worship the beautifully decorated idol of Goddess Parvati.

Hartalika Teej
This form of Teej is the most important occasion during entire Teej festival celebrations. Hartalika Teej lasts for three days and women observe a fast on the second day that is called Nirjara Fast meaning 'fast without water'. Hartalika Teej fast is observed with great devotion for the long life and prosperity of Husbands.

Legend of Teej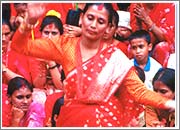 The Spirit of Teej symbolises "ideal marriage" highlighting the legend of Goddess Parvati uniting with Lord Shiva after a penance of over hundred years. It is believed that Parvati's blessings lead to marital bliss.
Rituals of Teej
Idols of Goddess Paravati bedecked with new clothes, jewellery are worshiped. After a ceremonial worship at home, elephants, camels and horses are taken out in a ceremonial process.

Women undergo fast, sing folk songs and dance to express for Goddess Parvati. It is a belief that fasting unmarried women will luckily find a suitable husband. Fasting married women would find bond of love with their husbands strengthened.

Celebration of Teej
During Teej, swing ropes on the courtyards decorated with flowers are a common sight. Newly married girls return to their parents home, receiving clothes from their parents and other male kins. Rural women buy bangles, bindis, bead-necklaces and consume mouth-watering dishes. Celebration includes games such as turban-tying and bangle wearing competition.
Teej festival holds a significant place in the religious, cultural, social and climatic life of Indians. It commemorates the holy reunion of Goddes Parvati with her husband Lord Shiva. Teej is celebrated to welcome the Monsoon season and is celebrated with lots of enthusiasm and deep devotion. Teej festival also provides strength to the bond of marital life.