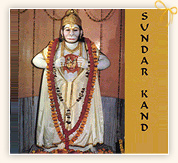 Sundarkand
forms part of Ramcharitmanas of Goswami Tulsidas which is commonly known as
Tulsi Ramayana
. It contains the essence of the
Ramcharitmanas
.
The
Sundar kand
can be read independently. It has a powerful theme : When you are on a good mission, God gives you strength to overcome all obstacles. Sundarkand commences with
Hanuman's
departure for Lanka in search of Sita and ends with Rama and his army's preparation to reach Lanka across the sea. The sunder kand is hindu religious text. This entire episode is called
Sundar
(beautiful) because every act described in it is auspicious, elevating the human mind and promoting right human values.
Hanuman initiates action for the friendship between Rama. Hanuman is the most pure in his devotion to Rama and Rama's cause. As a result of his single-minded devotion, Hanuman is blessed with extraordinary powers. Hanuman continuously performed extraordinary feats in helping Rama to achieve victory in his battle against evil and to uphold the
Dharma
(the truth). Hanuman is characterized as a wise monkey whose joy is found in serving Rama.
Sundar kand is also a story of the very personal relationships that
Sita, Hanuman, Lakshmana
and
Vibhishana
have with Shri Rama. In
Sundarkand
,
Jambavant
reminded Hanuman about his great powers that Hanuman had forgotten due to a curse.
Jambavant
exhorts Hanuman to undertake the crossing of the mighty ocean to search for
Sita
who had been abducted by
Ravan
.
The entire sequence is being monitored by Lord Shiva and Bhavani. Their dialogues form the core of the episode's teachings. Lord Shiva states that God's grace is essential for completing difficult tasks. But to obtain God's grace one has to constantly do good, and those who take Rama's name in speech, thought and action will always be trouble-free.
In
Sundar kand
everything ends on a positive and bright note. Hanuman finds Sita, ultimately leading to her rescue from the clutches of Ravana. Vibhishana is liberated from evil surroundings and is accepted in Rama's camp. Rama learns the secret of crossing the sea from the sea God.