Sphatik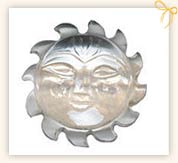 Snow crystal is called Sphatik and it is a transparent, lustrous and smooth stone. In Indian astrology, Sphatik is used as a substitute of diamond to appease the planet Venus.
Sphatik Shri Yantra is used for general success and prosperity in life. Sphatik Mala (rosaries) are also extensively used for meditation purposes. Regular worship of Sphatik statues brings good luck, happiness and prosperity.
Myths and Origins
In India, quartz crystal is called
Sphatik
. The name "quartz" comes from the German "Quarz", which is of Slavic origin - Czech miners called it
krem
. Some people say that the name is from the Saxon word "Querkluftertz" (cross-vein ore). Crystal is from the Greek word
krystallos
("ice") due to early Greek belief that rock crystal was formed from ice.
In Australian Aboriginal mythology, quartz is recognized as the mystical substance
"maban"
. Pliny the Elder, a Roman naturalist believed that quartz was permanently frozen ice since quartz was found near glaciers in the Alps and large crystals were fashioned into spheres to cool the hands. He also knew of the ability of quartz to split light into a spectrum.
There are many different crystals and minerals that are used to heal people and provide spiritual guidance. The quartz crystal or Sphatik comes in various shapes and sizes and is one of the most versatile and useful crystals.
Workings of Spahtik/Quartz Crystals
Sphatik or Quartz crystal is a conductor of energy. They have a strong field of light and energy which can be used as a sonic protection against negative vibrations. This property is present in all the sizes and shapes of crystals.
The movement of ions through the molecular structure of a Sphatik clears and neutralizes negative conditions in the aura of people of all ages. Sphatik can be used to cleanse and purify the atmosphere of even large areas - our homes and work places. It can become our own personal healer for the body. Crystals help enhance our intuitive power.
Sphatik Products
Sphatik is used to create a lot of Hindu religious products. The various products are :
Sphatik Shree Yantra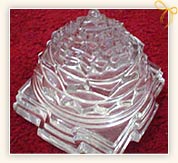 In ancient India and China, a yantra was used by the aristocracy and business class to enhance their wealth, affluence and luck. It was named Shree Yantra because in Sanskrit
"Shree"
means
wealth
and
"Yantra"
means instrument. Shree Yantra is considered to be dear to Goddess Lakshmi.
Sphatik Shree Yantra is a handcrafted pyramid that catches radiant white light energy and reflects back rainbows. The power of the Sphatik Shree Yantra lies in the pointed apex of the pyramid that represents the doubled powers of Trinity. The more pointed the apex, the stronger are its powers of healing. Shree Yantra helps in breaking down obstacles and negativities. Life of a Shree Yantra is about 100 years.
Sphatik Shree Yantra acts as a conductor of energy and blesses the individuals with wealth, name, peace and harmony. There are lots of negative energies around us which stand in our way of achieving success. The Shree Yantra helps us break through the energy fields to attain clarity in thought and action. An individual who worships a Sphatik Shree Yantra grows spiritually and materialistically. It can also be placed in the study room of children who lack concentration or are dull in studies.
There is another type of Shree Yantra called the
Kurm Shree Yantra
. This is a Sphatik Pyramid on a Tortoise. This Shree Yantra is especially beneficial to people facing financial crisis. It is also good for harmonious family relations, health of children and family peace.
Sphatik Idols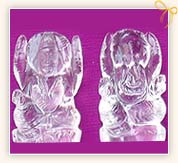 Sphatik idols are ideal as desktop items or for pooja. They control the negative energies surrounding an area, remove bad effects caused due to Vaastu. There are various types of idols available like :
Sphatik Ganesha and Lakshmi Idols
The most important feature of Diwali celebrations is the Lakshmi - Ganesha pooja. Goddess Lakshmi is the Goddess of wealth and prosperity. Lord Ganesha is worshipped first on every pooja and is the God of pure consciousness, good luck, knowledge and wisdom.
The idols are constructed of superfine Sphatik and weigh about 50-55 grams approximately. The finely crafted auspicious pair brings charm and grace to an individual's office and home.
Sphatik Ganesha Idol
Sphatik Ganesha is handcrafted out of fine quality crystal and weighs about 17-20 grams. Ganesha is the God of wisdom and salvation. He is considered to bring good luck and success in all ventures. Ganesha is the destroyer of all obstacles, sorrows and negative energy. Sphatik Ganesha idol is ideal for home and offices.
Sphatik Shiva Parivar
Sphatik Shiva Parivar is a combination of 5 statues comprising the family of Lord Shiva. It includes Lord Shiva(in the form of shivlinga), Goddess Parvati, their two sons - Ganesha and Kartikeya and Shiva's vehicle - the Nandi Bull. It is said that the regular worship of Shiva Parivar results in prosperity and good health. The Shiva Parivar is crafted of fine Sphatik and weighs about 100-150 grams approximately. It comes in a velvet box packing.
Sphatik Items
A number of items are crafted out of Sphatik like :

Sphatik Shankha/Conch
Sphatik Shankha/Conch is the symbol of Maa Lakshmi and it balances and harmonizes the aura around us. It is used to energize an area or to energetically expand an area that is cramped and uncomfortable. It is said that if Crystal Shankha is placed in the locker, there would never be any shortage of money in that house.

Crystal Shankha is hand crafted using high quality Sphatik and it weighs about 8 - 14 grams. If we place Sphatik Shankha in a bucket of water and then bathe with it, this water brings good luck and fame. If this Shankha is placed in the area of work, it removes financial problems and boosts profits in business.

Sphatik Shree Yantra on Tortoise
Sphatik Shree Yantra on Tortoise is also called Kurm Shree Yantra. It is used for achieving prosperity, success and wealth. This Shreeyantra cleans negative aura, brings peace and happiness to a family and frees a person from financial problems. It is also good for children who suffer from frequent health problems. The invisible positive rays of the Sphatik Shree Yantra cures health related problems.

Sphatik Shree Yantra on Tortoise is made of high quality crystal and weighs about 15 - 22 grams. It is especially beneficial for people with bad financial debts.

Sphatik Shivalinga in Pindi Form
Sphatik Shivalinga harmonizes the aura around us and cleanses it of negative energies. The Sphatik Shivalinga in Pindi form, when placed in our homes or offices, purifies it and also blessings of Lord Shiva are obtained. This Shivalinga blesses the worshipper with abundance of wealth, prosperity, fast recovery from illnesses and positive powers.

Sphatik Shivalinga is handcrafted of high quality of Sphatik and weighs about 30 - 40 grams. This Shivalinga should be touched and prayed to each morning to gain the maximum benefits.

Crystal Sun
Crystal Sun represents power, authority & luck in business. It enhances the peace of mind, clarity in thoughts and favorably helps in work area. Crystal Sun helps purify and cleanse our homes and office areas of negative energies.

Sphatik Sun is made of highest quality sphatik and it weighs about 10 - 17 grams. It has been proved that Crystal Sun replaces all negative energies with unlimited abundance and positive power.

Rama Paduka/Padhuka
When Shri Rama went to the forest on exile, his brother Bharata asked for his paduka/wooden slippers. These slippers were placed on the throne of Ayodhya representing Rama and it is said that Bharata ruled Ayodhya on Rama's behalf. For the entire period of fourteen years, the "Charan Paduka" of shri Rama maintained peace and harmony in the kingdom.

Embossed on pure Sphatik, Rama Paduka weigh about 10 - 17 grams and are embedded in lotus petals. It is said that keeping Rama Paduka in the house brings peace, harmony, happiness and prosperity in the house.
Sphatik Accessories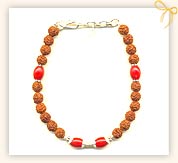 Sphatik is a common material used for creating fashion accessories. The variety of colored crystals act as a good source of differently colored beads. Multi-hued malas, pendants and bracelets are abundantly available. Sphatik beads are often used in combination with Rudraksha and Coral beads, Semiprecious stones, etc. The Sphatik accessories are also used for their healing powers. The different accessories available are :
Sphatik Mala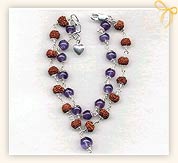 According to astrology, Sphatik is related to Venus and is used as a substitute for diamond. Sphatik malas are essentially used as an accessory and for healing purposes. The differently colored crystal beads are used for creating exquisite malas in a rainbow of shades. Sphatik creates an electrochemical balance in the body thereby removing anxiety and calming an individual.
Sphatik malas are also used as prayer/rosary beads and they cool the body and calm the mind. Sphatik rosaries are used to count mantras while worshiping goddesses like Lakshmi, Durga, Saraswati, etc. Wearing a crystal mala ensures an undisturbed deep sleep.
The Sphatik malas have differently sized Sphatik beads like 4 mm, 5 mm, 6 mm, 7 mm and 8 mm. The combination is usually 108 + 1. The Sphatik malas help in calming the mind, increasing concentration, cooling the body and leading a quiet life.
Sphatik malas are also made in combination with Rudraksha beads, Carnelian and Coral beads, semiprecious stones and beads, etc.
Sphatik Pendants
Sphatik pendants are available in many designs and shapes. They are usually bounded in sterling silver. The usual size of the Sphatik Crystal pendants is 2.5 centimeters approximately. The Pendants are available in a number of varieties :
Om Namah Shivay Pendant
This Sphatik pendant is hand made and binded in silver. It has "Om Namah Shivay" inscribed on it. This pendant has the blessings of Lord Shiva. The usual size of this pendant is approximately 2.5 centimeters.
Shree Pendant
According to the Indian scriptures, "Shree" is the symbol of wealth and abundance. This pendant has the blessings of Goddess Lakshmi. Hand crafted out of Sphatik, this pendant has "Shree" inscribed on it. It is bound in sterling silver and approximately 2.5 centimeters in size.
Swastik Pendant
Swastik is the first symbol created by man and is made of two words - "Su" and "As". "Su" means welfare, purity and "As" means power, leadership, life and existence. The meaning of "Swasti" is power of purity.
Swastik is the symbol of Lord Ganesha with the four arms representing the four arms of Lord Ganesha and the "+" sign representing his body. It is also a symbol of prosperity and peace. The Sphatik Swastik pendant is carved of high quality crystal and is binded in silver. Its size is usually 2.5 centimeters.
Om Pendant
Om is the most sacred symbol in Hinduism and is said to be the sound of infinity. It is the essence of all mantras and Vedas. Om/Aum means creation, preservation and destruction and represents the Trinity of Hindu gods - Brahma, Vishnu and Shiva. The three portions of AUM/OM relate to :
Three states of waking, dream and deep sleep
Three gunas - rajas, satva and tamas
Three planes of existence - heaven (swarga), earth (martya) and netherworld (patala)
The sound of the Sun and the sound of Light
This Sphatik pendant has been handcrafted inscribed with "Om". It is binded with sterling silver and has a size of approximately 2.5 centimeters.

Trishul Pendant
"Trishul" is the symbol of Lord Shiva and is beneficial for people suffering from tantra, fears and evil eye effects. "Trishul" Sphatik pendant is good for childen as it helps them get rid of fears.

This Sphatik pendant is inscribed with "Trishul" and is handcrafted out of high quality crystal. The pendant is binded with sterling silver is approximately 2.5 centimeters in size.
Sphatik Bracelets
Sphatik bracelets are made of clear crystal beads strung together with gold or silver spacings and adjustable hooks. The beads are sometimes multicolored and strung with other beads of Rudraksha, Coral, etc,
22 karat gold and silver are commonly used as spacers in bracelets. These bracelets are worn to attain fearlessness, power, energy, dynamism and protection from negativity.