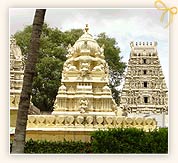 The Hindu religious temple is a house of worship for the followers of Hinduism. They are usually dedicated to any one prime deity or multiple of them. They inherited rich & ancient rituals & customs which have been kept intact till date. Since ages, the architectural part has been given prime importance keeping in mind the religious and spiritual activities to be followed at these sacred places. Today, they not only serve as pilgrim centers but also has hot tourist destinations simply because of their intricate architectural designs & patterns. The legends related to them make them all the more happening in every way.
Most of these were constructed as per the agama shastras. Vasstu Shastra is given due importance which is the science of aesthetic & auspicious designs. The common sight of most of the Hindu religious temples is the presence of the elaborate idols of the deity. Since the Vedic age, the milieu of the temple was equally kept in high esteem. Roch cut architecture, cave style temples carved out rocks are examples. Elaborate sculptures & paintings would adorn the walls of these temples. The spiritual temples are found in abundance throughout the country. The major centers come under these two prominent categories :
Char Dham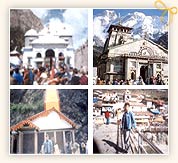 The Char Dham is considered a vital Hindu pilgrimage circuit in the Indian Himalayas. The picture perfect location in the Garhwal section of the state of Uttarakhand, consists of four sites - Yamunotri, Gangotri, Kedarnath and Badrinath. All the site in the circuit has the backing of an autonomous history. They are seen as hot destinations because of their beautiful locales as well as pilgrim centers. The Char Dham has always been seen as a source to come in contact with the divine power. The mystical journey has been mentioned as 'Kedarkhand' in ancient Hindu scriptures.
As per the Hindu scriptures, all these holy centers are very sacred of all pilgrimages. One gets rid of all his sins when making a trip to any of these sacred places. It is believed that he gets free from worldly clutches, & thus, is blessed with Moksha. The beautiful placing of the spiritual Char Dham is seen as a meeting point for heaven and earth. The journey towards Chardham must be started from left to right - i.e. beginning with Yamunotri, then moving on to Gangotri, Kedarnath before finally ending the journey at Badrinath. This particular adoption of the route actually follows the Hindu tradition of parikrama or clockwise circulation.