Introduction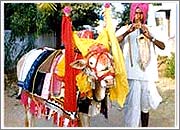 Makar Sankranti is celebrated with fervour all over India though in different names and forms. It is considered as the most auspicious day by the Hindus.

The Makar Sankranti festival marks the day when the sun begins its northward journey and enters the sign of Makar (the Capricorn) from the Tropic of Cancer. In other words, the sun moves from Dakshinayana (south) to Uttarayana (north). The day falls on the 14th of January every year according to the Solar Calendar.

On this day people take a holy dip at Prayag and Ganga Sagar and worship Sun. The tradition of kite flying adds zeal to the festival.

Origin
Makar Sankranti festival holds special significance according to the solar calendar as the day and night are of exactly equal duration on this day. For the people of northern hemisphere, the northward path of the sun marks the period when the sun is getting closer to them. This signifies that the days will get longer and warmer after Makar Sankranti.

The importance of the day was noted even by the Aryans who celebrated the auspicious day as a festival. Also, an episode from the great epic Mahabharata shows that people in early times marked the day as auspicious. Warrior-hero Bhishma Pitamah even after being wounded in the Mahabharata war lingered on till Uttarayan set in. Death on this day is set to bring Moksha or salvation for the deceased.

Celebrations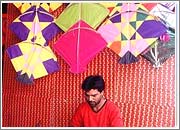 The festival of Makar Sankranti is highly regarded by the Hindus from North to down South. The day is known by various names and a variety of traditions are witnessed as one explores the festival in different states.

In Uttar Pradesh, Sankrant is called 'Khichiri'. Taking a dip at the confluence of Ganga, Yamuna and the mythical Saraswati at Sangam, Allahabad is considered auspicious on the day.

In Punjab, the eve of Makar Sankranti is celebrated as 'Lohri' in which bonfires are lit and people make merry. The following day, which is Sankrant is celebrated as 'Maghi'. The Punjabi's dance their famous Bhangra dance till they get exhausted.

In Bundelkhand and Madhya Pradesh the festival is known as 'Sukarat' or 'Sakarat' and is celebrated with great pomp merriment accompanied by lot of sweets.

While in Bengal, a big fair is held at Ganga Sagar where the river Ganga enters the sea.

In Gujarat, there is a custom of giving gifts to relatives. The Gujarati Pundits on this auspicious day grant scholarships to students for higher studies in astrology and philosophy. Kite flying is also associated with this festival in a big way and has become an internationally well-known event.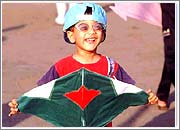 In Maharashtra, there is a custom to exchange a sweet preparation called 'til-polis' as a token of love. Besides, married women are invited for a get-together called, 'Haldi-Kumkoo' and given gifts of any utensil, purchased by the woman of the house.

Down South, Sankranti festival is known by the name of 'Pongal'. The festival gets its name from the surging of rice boiled in a pot of milk. It is very popular particularly amongst farmers. On this day, people worship the Sun.

It is also a big event for the Tamils and the people of Andhra Pradesh. The Telugus call makar sankranti as 'Pedda Panduga', meaning, 'big festival'. The event is celebrated for four days. The first day is called 'Bhogi', the second day, 'Sankranti', the third day, 'Kanuma' and the fourth day, 'Mukkanuma'.