Hindu Of Universe
Lucky Charms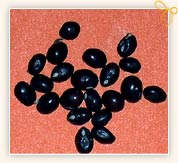 Nature has created many rare things, the use of which is auspicious for health, wealth and happiness. Tantra is a technique or a method worship which uses natural materials and substances in a specified manner. The natural substances bring about certain changes in people's lives and are thus treated as Lucky Charms.
The various lucky charms commonly used in Hinduism are :
Black Chirmi Beads
Black Chirmi beads are found growing in the forests of Aravali Mountains in India. They are believed to be hundreds of years old. It is said that the bead selects its owner and will never stay with an unlucky person.
The Black Chirmi beads are used to ward off evil, bring good luck and ward off physical harm. They are said to symbolize Goddess Lakshmi and so are kept in lockers, money boxes or purses. The black chirmi beads are sold in an attractive silver box.
Sidh Swetark Ganapati
The Sidh Swetark Ganapati is obtained from the root of a shrub called
Ark
or
Aak
and this root takes the shape of Lord Ganesha. This lucky charm blesses the individual with blessings from Shiva and Ganesha, gives knowledge and concentration power, maintains harmony in family life, eliminates illnesses, activates positive vibrations in the house and brings wealth and prosperity.
Swastik
Swastik is symbol of Ganesha and therefore is drawn on the gates of the houses to ward off evil eyes. It also brings wealth and harmony to a family, increases mental intellect and concentration. It is one of the most holy symbols of Hinduism. Every work begins with the drawing of Swastik and is said to represent "Shubh Laabh", the sons of Lord Ganesha.
Horse Shoe
According to our Vedas, horse shoe is an effective way of warding off bad luck and diseases. Horse Shoe is affixed to the outer door of the house and is said to act as the protective layer against bad influences.
Horse Shoe Ring
Horse Shoe Ring is a universal good luck charm. It is suspended from the horns of cattle, used for removal of malefic effects of Saturn and evil effects. It should be worn on the middle finger of the right hand. It brings wealth and prosperity to the wearer.
Horse Shoe Kada
Horse Shoe Kada is made from horse shoe and is wrapped in silver chains. It is worn to remove the
"Vish Yoga"
arising from the conjunction of Saturn and Moon in the horoscope. This Kada brings a positive effect in the life of the wearer.
Siyar Singhi
"Siyar"
(Jackal) does not have horns. But a small bunch of hair with horn emerges from its forehead when it hoots facing downwards. This is called
"Siyar Singhi"
.
If
"Siyar Singhi"
is kept in the house, it is said to ward off evil spirits, bestow good luck and wealth, help overcome enemies, and achieve success in law suits. It is always kept in vermillion (Sindoor) in a silver box in the pooja room. Its hair grows automatically.