HinduOfUniverse
Karwa Chauth
Karwa Chauth festival is celebrated mostly by the Hindu and Punjabi married women (suhagins) in the Northern and Western states of India like Punjab, Haryana, Delhi, Gujarat and some parts of Uttar Pradesh. Karwa Chauth Festival is the most significant occasion that strengthens the sacred marital bond between husband and wife.

In India marriage is considered the most sacred bond of a life time. Therefore, Karwa Chauth festival is celebrated with so much of joy and enthusiasm among the married women. On this day married women dress up in their best clothings and decorate with shimmering jewelry and apply heena on their hands. Without eating or drinking anything married women ends their day long fast after watching the moon in night and having food from their husbands.
Karva Chauth is a very traditional festival celebrated in the form of fasting by married women. On this day women observe a day long fast without having food or water and pray for the prosperity and longevity of their husbands. The fasting ritual of Karva Chauth signifies utmost love and devotion of a wife to her husband.

When is Karwa Chauth in 2008
The term 'Karwa' means an earthen clay pot and 'Chauth' means fourth day. Karwa Chauth is celebrated on the fourth day after full moon in the month of Kartik that usually comes in the month of October-November. This festival normally comes 09 days before Diwali.

In year 2008 Karwa Chauth festival will be celebrated on Friday, 17th October.

Celebrations of Karwa Chauth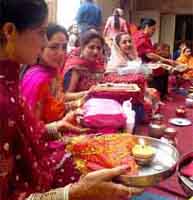 The auspicious occasion of Karva Chauth festival is celebrated by married women of North India with complete dedication and so much fanfare in the form of fasting from sunrise to moon rise without eating a bit or drinking a drop. They observe the most difficult fast for the long life and prosperity of their husbands.

On the festive day married women wears special clothes usually red or pink saree/ suit, adorn themselves with best jewelry, colorful bangles, bindi and vermilion on the forehead and apply design patterns of heena (Mehendi) on both hands. Then they worship Shiva, Parvati,Ganesha and Kartikeya and a Kalash or Karwa (earthen pot made of clay) filled with sweets. In some communities women begin their fast by consuming food called 'Sargi' given by their mother-in-law to eat before sunrise. In the evening women receives 'Baya' or a basket containing sweets, fruits and saree meant for mother-in-laws. Then women from neighbourhood assembles to worship Goddess Gauri and an elderly woman of family narrates the story of Karwa Chauth. After that the rising of the moon is awaited and as it happens, women worship the it and see the moon and their husband through sieve. Then they receive a bit of food from their husbands and ends the day long fast.
Significance of Karwa Chauth Festival
The festival of Karwa Chauth is observed with a fasting tradition by the married women. So unique in nature women keeps the fast to pray for the welfare and long life of their husbands. Karwa Chauth festival brings married women more closer to their Mother-in-laws. Like other festivals, Karwa Chauth is also marked by gatherings by friends and relatives, preparing delicious food, exchanging of gifts and well wishes. All the decorations, jewelry, heena and joyous atmosphere signifies the splendor and happiness of a married life.

Unlike from past the celebrations of Karwa Chauth festival is changing with the times. The beauty parlours, jewelry shops, and restaurants have made this festive occasion a full-fledged commercial activity. Unmarried girls have also started to observe the fast for getting their dream husband. Photographs and phone calls are doing away the need to wait till the moon rise to end the fast. This shows the changing and glorifying face of Karwa Chauth festival.

Legends of Karva Chauth
As per a legend in the Mahabharata, once Arjun had gone for worship to the Nilgiri Hills. Draupadi was struck with fear believing that she was alone in the forest with no one to protect her. She invoked Lord Krishna who appeared before her. On hearing her predicament Lord Krishna cited an example of Goddess Parvati. Parvati in a similar situation asked Lord Shiva's help. Lord Shiva explained to her that to ward off such apprehensions, a woman could observe a fast on Kartik Krishna Chaturthi as a remedy.
There is also the story of the Satyavan and Savitri. Savitri with her unparalleled love for her husband averted his untimely death. When Lord Yama, came to procure Satyavan's soul, Savitri begged him to grant him life. When he refused, she stopped eating and drinking and Yamraj finally relented. He granted her, her husband's life.
FESTIVAL OF KARWA CHAUTH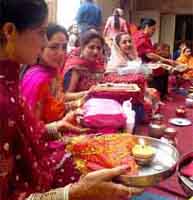 Karva Chauth is a very significant festival for the women of North Indian. Traditionally the Indian woman was expected to uphold family honour and repute. And in order to do that, she was compared to myriad goddesses and heroines in Hindu mythology whose personal and spiritual achievements thus set the way of life for every Indian woman who, in turn, was expected to emulate them. As a child she submitted to the dictates of the paterfamilias – the father, and after marriage to those of the husband. Her failure to do so supposedly brought doom and dishonor upon the concerned families and their genealogical ramifications.
The notion of female chastity, respectability, tolerance and demureness slowly but surely seeped into every layer of the Hindu society and literature, and great care was taken to glorify the woman, while the reigns of social control were firmly held by the mikado of morality – the male. In such a social construct, the woman's identity hinged first on that of her father, and later and more importantly on that of her husband. Therefore, in certain pockets of India, a widow was expected to immolate herself on the funeral pyre of her departed husband – an act hailed by many that guaranteed her the status of an 'exalted woman', a devi (roughly translated as a demigoddess). Hence, not only was her status, but even the mere survival of the woman was dependant on that of the man. The corollary was that the woman did everything within her means to ensure the well being of her patiparmeshwar, or 'husbandalmighty'.

Today, however, the festival of Karva Chauth is not only a day when women pray to God for the long and prosperous lives of their husbands, but is also symbolic of their unflagging loyalty towards their spouses. The festival is celebrated nine days before Diwali, or the festival of lights, on the fourth day of the waning moon in the Hindu month of Kartik, around October-November. Married women, old and young, begin their fast on the day of Karva Chauth well before sunrise (around 4 a.m.), and eventually partake of food and water only after spotting the moon, which generally rises at about 8.30 p.m. But this is not to say that it is a solemn day solely symbolic of privation, as a good measure of festivity, rituals and merriment complement its more serious implications. In fact many women do not adhere very strictly to the guidelines laid down for the fast, and while they choose to abstain from food, they drink water, tea and coffee.

Karwa Chauth 2009
In the year 2009, Karwa chauth falls on the October 8th.