HinduOfUniverse
Jatakas - The Buddhist Tales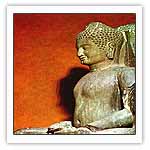 The Jatakas are Buddhist parables and tales – loose parallels of the Panchtantra actually. They tell the tales of Buddha in his previous lives (when he was called Bodhisattva or Buddha-to-be), which included incarnations in the form of a snake and an elephant. These stories reflect the travails and experiences that the he had to go through to attain the wisdom of the Buddha.

The Stories Depicting Moral Values

In format the stories are similar to the Panchtantra and lead up to a moral. Here again the morals are bigger than the stories. Being Buddhist, the stories are less matter-of-fact than the Panchatantra and sometimes deal with quite intricate esoteric messages.

For example there is a story in the Jatakas called the Kisa Gotami. The story revolves around a woman who loses her only son. She goes to the Boddhisattva to tearfully ask him to resurrect her son. He asks her to get a bowl of wheat from a house where no one has ever died. As the woman goes from house to house, searching in vain for a house in which no death has occurred, she comes to the realization that death is a part of life and has to be accepted as such.
So while the message of the Panchtantra is relatively commonsensical, that of the Jatakas can be surprisingly profound.
References to sea voyages in the Jatakas are quite frequent, which reveals Buddhism to be much more dynamic religion than Aryanism (which forbade travel over sea). There are also certain interesting references to navigation in the stories. In one of the stories a crow is used as a pilot for a ship; the reason for which is that crows are known to fly in the direction of land.

The Jatakas have been used as important and reliable source material for ancient Indian history. This is despite the fact their anti-brahminical bias for which historians tend to leave room (this was because Buddhism was a reform movement against the heavily ritual-based Aryan religion).

Jataka Tales
Composed around 300 B.C, the Jataka tales are an interesting collection of short stories that have been very popular among folklores and legends. These stories are an interesting way to teach the values and morals of life and good living. Each and every Jataka story has a moral to learn and these stories have been passed from generation to generation and are still popular in the contemporary world as they serve as bedtime tales for children. These tales were written in Pali language and are often called as Jataka Buddhist tales, since Pali is the language of ancient Buddhist scriptures.

These tales are said to have inspired further fables and tales like the Arabian Nights, Aesop's Fables and Adventures of Sindbad. These stories talk of the incarnations of Lord Buddha in different forms like human, animals and teach some of the most important lessons of life. They talk about perseverance, self-respect, respect for others, wisdom, honesty, morality, etc. and many other important goals of life that can be easily realized through hard work and determination.

The Jataka tales have much educational value and were used to teach youngsters the important morals and goals of life. These fables are around 547 in number and are very interesting to read. Most of the tales have an Indian backdrop and are said to have the backdrop of the northern parts of India, near the holy city of Varanasi near the river Ganges.

Morals written around 300 B.C in a language called PALI, which were later translated and distributed to people across the world. These stories are mainly about past incarnations of Buddha, and are meant to teach the values of self-sacrifice, honesty, morality and other didactic values to a common person. They are a total of 547 in number. They really make interesting reading just like the counterparts in Panchatantra.