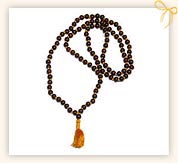 Japa mala is a string of prayer beads used for reciting or chanting a mantra or other forms of spiritual exercise or sadhana, generally known as "japa/jaap". The mala beads are in sets of 27, 56 or 108 repetitions. A jaap/japa mala is very popular among Indians. A jaap mala is a very practical tool for meditation.
Why do you use the Japa Mala?
Rosary beads is used to keep the mind focussed on the meditation. It is a known fact that the mind tends to wander off all time, especially during the meditation practice. If your energy is low at the time of meditation, you can fall asleep. If the energy is too high, you can be distracted in other ways. During such times, the japa mala provides the much needed anchor. The prayer beads are moved in rhythm with the breath and the mantra, and hence both-sleep as well as excessive mental distraction are prevented by this action upon the beads.
For Wearing
A Rosary Beads when around the neck is also a wonderful accessory to meditation. This personal mala which when used regularly with a personal mantra, absorbs the vibrations of the practice and the mala becomes like a close friend or a comfortable piece of clothing. The japa mala, when worn also acts as a talisman and maintains a positive flow of energy throughout the body.
How to Use a Japa Mala/Rosary Beads?
Hold your japa mala in your right hand.
The index finger is extended and should not touch the japa mala.
Use your thumb to touch the bead for counting each mantra during the recitation. Then lightly push the bead away on completion and move on to the next bead.
The large meru (mountain) bead is the starting and ending point on the mala for counting the repetitions but should not be counted or touched by the thumb.
Continue counting by pulling the beads and going backwards until you again end at the meru. Continue till you have done 108 repetitions or multiples of 108.
If you have a wrist mala of 27 beads you will need to repeat this 3 more times.
Whenever the japa mala is used by anyone, it automatically conditions the mind to the meditative state.
Types of Japa Malas
A wide variety of materials are used to make japa mala beads and each material has certain properties which subtly affect the subconscious mind of the practitioner. Some of the commonly used japa malas are as follows :

Tulsi Wood Mala
Tulsi also referred to as the sacred basil is considered to be the most sacred of the woods used in Indian worship. It is believed that chanting a prayer using a tulsi japa mala increases the spiritual power of the prayer, devotion and spiritual growth of an individual.

Rudraksha Mala
Rudraksha japa mala is generally used with Shiva mantra and it is usually the Panch Mukhi Rudraksha Mala which is used as a japa mala. Besides being used as a japa mala, the Rudraksha mala can also help to lower blood pressure and create stability within the entire system, if worn around the neck. Rudraksha mala has many healing properties that have been scientifically proved.

Crystal Mala
Crystal Mala can also be used as a japa mala because crystal balances all the energy Chakras while reciting "mantras" during meditation. Crystal beads also protect and heal by neutralizing negative influences.

Sandalwood Mala
Sandalwood is believed to promote tranquility as an aid to meditation. Using a sandalwood bead mala while chanting is supposed to have therapeutic effects. It enhance calmness and creates a positive frame of mind.

Navgraha Mala
The Navagraha mala is made of 9 semi-precious stones where each stone is representing a planet of our solar system. This mala has tremendous astrological significance and wearing of this mala counteracts the malefic tendencies of different planets in the astrological chart. It can also be used as japa mala.

Bodhiseed Mala
The Bodhi tree is the tree under which Lord Buddha attained awakening and hence Bodhi literally means "enlightenment". As such Bodhi seeds mala is used for meditation and for reciting many types of mantras. This japa mala aids the practitioner in counting mantra recitations while also helping to focus concentration and awareness. It is very popular among Buddhist monks.

Rose Wood Mala
Rosewood mala is also used as a japa mala as it is considered to be good for the skin, improving the circulation and strengthening an individual's aura while protecting one from negative energy. This is usually a Tibetan mala used traditionally for a special Buddhist practice.

Lotus Mala
It is said that Mantra invoked on a lotus japa Mala abounds in spiritual wealth. The oval, brownish-black seeds of the lotus are known for its cooling effect. The japa mala is used especially for the Lakshmi jaap to stabilize and improve financial conditions.

Parad Mala
Since ancient times, parad is considered to be one of the most pure and auspicious metals with both religious and medical importance. Parad in the form of beads is a very powerful cure of diabetes, blood pressure and heart diseases, when worn around the neck or waist and can also be used a japa mala.