Anyone interested in the spirituality and mediation looks for a Guru or a teacher who can guide him in the right direction. The land of India is full of Gurus, spiritual as well as religious. These are the people who have promoted spirituality, meditation, love, peace, brotherhood, serving others and other such humanitarian values to people in India and the rest of the world.

In this section on Indian Gurus, we have provided a brief biography of the following spiritual and religious leaders in India…
Shirdi Sai Baba
About Sai Baba
Sri Shirdi Sai Baba is considered to be the epitome of spiritual enlightenment and religious harmony. One of the greatest saints ever born in India, He is believed to be a manifestation of God. His main aim in life was to make people realize the eternal truth "Sabka Malik Ek" (One God governs all). He always preached people to follow the path of Shraddha (devotion) and Saburi (patience). Read this biography further to know about the life history of Shri Shirdi Sai Baba.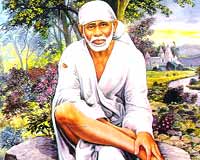 His Life
No authentic information is available about the birth and the early life of Sri Sai Baba. It is believed that He was born to Hindu parents, but raised by a Muslim couple. The only records that are available are from the time He made His appearance in Shirdi, a small town near Nashik city of Maharashtra. It is said that He was first seen in Shirdi, sitting in a meditative posture under a Neem tree. The radiance on the face of the young boy, along with the intense meditation He was undergoing, attracted the villagers towards him.

It is said that Sri Sai Baba left Shirdi after a period of three years and came back when He was twenty years old, accompanying a marriage party. In Shirdi, He mostly stayed in an abandoned mosque, situated in the outskirts of the village. Later, the mosque came to be known as 'Dwarikamai'. With time, Sai Baba came to be known in places far away from Shirdi. This time, Baba remained in Shirdi for a period of sixty years. It was in Shirdi only that He attained Maha Samadhi (salvation) in 1918.

Mission of Shri Sai Baba
The main aim of Sri Shirdi Sai Baba was to spread the feeling of unity and brotherhood throughout the world. He preached that there is only one God, who is the master of all the human beings. God loves each and every person, irrespective of his/her vices or virtues. Similarly, we should also love each other, irrespective of the religion, caste, creed, etc.

Sai Baba Incarnations
Sri Sathya Sai Baba of Puttaparthi is considered to be an incarnation of Shirdi Sai Baba. It is belived that Sai Baba will reincarnate himself again in the world for the third and final time, in the form of Prema Sai Baba.
Valmiki
About Valmiki
Maharishi (the great sage) claims the distinction of being the author of the holy epic 'Ramayana', consisting of 24,000 verses. He is also believed to be the author of Yoga Vasistha, a text that elaborates on a range of philosophical issues. Written approximately 500 years ago, it was taught to Lord Rama when He lost all the hopes in life. Read on this biography to know more about Maharishi Valmiki and his life history.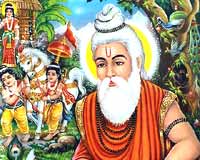 Early Life
Maharishi Valmiki was born as Ratnakara to sage Prachetasa. At a very young age, Ratnakara went into the forest and got lost. A hunter, who was passing by, saw Ratnakara and took him under his own care. Under the love and care of his foster parents, Ratnakara forgot his original parents. Under his father's guidance, Ratnakara turned out to be an excellent hunter. As he approached marriageable age, Ratnakara was married to a beautiful girl from hunter's family.

Turning into a Robber
As his family grew larger, Ratnakara found it next to impossible to feed them. As a result, he took to robbery and began looting people passing from one village to another.

Meeting with Narada and Transformation
One day, the great sage Narada, while passing through the jungle, was attacked by Ratnakara. As Narada played his Veena and sang praises of the Lord, he saw a transformation coming over Ratnakara. Then, he asked Ratnakara whether the family, for whom he was robbing others, will partake in his sins also. Ratnakara went to ask the same question to his family and on being refused by all his family members, he went back to sage Narada. Narada taught him the sacred name of 'Rama' and asked him to sit in meditation, chanting the name of Rama, till the time Narada came back.

Ratnakara followed the instructions and kept sitting in a meditative posture for years, during which his body got completely covered by an anthill. At last, Narada came to see him and removed all the anthills from his body. Then, he told Ratnakara that his tapasya (meditation) paid off and the God was pleased with him. Ratnakara was bestowed with the honor of a Brahmarshi and given the name of Valmiki, since he was reborn from the Valmika (the ant-hill). Sage Valmiki founded his ashram at the banks of River Ganga.

Receiving Lord Rama
One day, Valmiki had the fortuity of receiving Lord Rama, His wife Sita and brother Lakshman at his ashram. On Valmiki's suggestion, Lord Rama built his hut on Chitrakuta hill, near the ashram.

Writing Ramayana
Narada visited Maharishi Valmiki in his ashram once and there, he narrated the story of Lord Rama. Thereafter he received a vision from Brahma in which the Lord instructed him to write Ramayana in slokas, which the sage readily followed.
Vishwamitra
About Vishwamitra
Rishi Vishwamitra is considered to be one of the most revered rishis (sages) of the ancient India. As per the holy Puranas, there have been only 24 Rishis in India who have the Gayatri Mantra. It is believed that Sage Vishwamitra is the first saint of the 24 saints, and Sage Yajnavalkya the last. He also claims the distinction of being the author of the majority portion of the Mandala 3 of the Rig-Veda. Read on to explore the biography of Sage Vishwamitra further…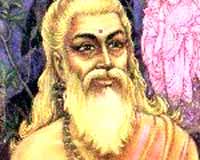 Early Life
Rishi Vishwamitra was born as 'Kaushika' and was the great-grandson of a great sage king, known as Kusha. He was born to Gadhi, one of the four sons of Kusha. Like every other prince, Kaushika also succeeded his father to the throne of his kingdom.

Meeting Sage Vasishta
While on a tour of his kingdom, Kaushika came across the hermitage of the great sage, Vasishta, along with his army. The peace and the solitude surrounding the hermitage impressed him deeply and he entered inside. There, he and his army were well received and served a splendid feast. Surprised at the welcome received by him, Kaushika asked sage Vasishta that how he managed to feed such a large army.

The sage replied that the food was provided to him by his calf, Nandini, gifted to him by Lord Indra himself. Kaushika offered the sage a large amount of wealth in return of the calf. However, the sage declined the offer. Enraged at the refusal of sage Vasishta, he ordered his army to forcefully take the calf to his kingdom. The sage used his yogic powers to bring forth a huge militia of fierce warriors, who defeated the army of Kaushika. Kaushika was captured and brought before the sage, who pardoned him.

Renunciation
The above mentioned incident deeply affected Kaushika and made him realize that power of penance was greater than that of physical strength. He relinquished his throne and began his journey to become a sage, greater than even Vasishta. After undergoing intense meditation and severe asceticism, he was bestowed with the title of Brahmarishi by Lord Brahma himself. He was given the name of 'Vishwamitra' (friend of all).

Legends surrounding Vishwamitra
It is said that Sage Vishwamitra created a parallel heaven, known as Trishanku Swarga, for King Trishanku. It is also believed that in the great epic Ramayana, Vishvamitra was born as Lakshmana, the brother of Lord Rama. He gave his brothers the knowledge of the Devastras (celestial weaponry), trained them in advanced religion and taught them how to kill powerful demons.
Surdas
About Surdas
Surdas is one of the people who had great influence on the cultural heritage of India. He was a poet, a saint and a musician and played all the parts with the same finesse. Since there are no authentic records on the life of Surdas, his biography comes up as a combination of facts and fiction.

Early Life
There is a little disagreement regarding the exact birth date of Surdas, some scholars believe it to be 1478 AD, while others believe it to be 1479 AD. Same is the case of the year of his death, it is either considered to be 1581 AD or 1584 AD. As per the limited authentic life history of Surdas, it is said that he lived in Braj, near Mathura. Surdas was born blind and because of this, he was neglected by his family. As a result, he left his home at tender age of six.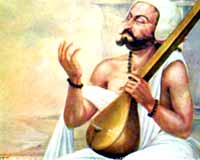 Meeting Shri Vallabharacharya
In the eighteenth year of his life, Surdas went to Gau Ghat, a sacred bathing spot on the embankments of Yamuna River. It was here that he came across Shri Vallabharacharya, the great saint-savant. Vallabharacharya advised Surdas to sing Bhagvat Lila, the Creative Play of the Lord and introduced him to the secrets of contemplative devotion. From this time onwards, Surdas never looked back on the path of spirituality. Surdas spent the last years of his life in Braj, the place of his birth.

Literary Works of Surdas
The work of Surdas mainly consists of the following three compilations.

Sur-Saravali
Sur-Saravali, based on the festival of Holi, originally consisted of hundred verses. In this poem, he tried to create a theory of Genesis, with Lord Krishna as the Creator.

Sahitya-Lahiri
Sahitya-Lahiri is mainly associated with Bhakti (devotion) towards the Supreme Lord.

Sur-Sagar
Sur-Sagar is considered to be the magnum opus of Surdas. The poem has been woven around the life of Lord Krishna. It originally contained 100,000 poems or songs, out of which only 8000 have survived the travails of time.

Philosophy of Surdas
The Bhakti movement that was widely prevalent in India at the time of Surdas deeply affected him. He propagated the Shuddhadvaita school of Vaishnavism. It makes use of the spiritual metaphor of the Radha-Krishna Lila, derived from earlier saints.
Swami Vivekananda
About Swami Vivekananda
Swami Vivekananda was the disciple of Ramakrishna Paramahansa. He founded the Ramakrishna mission to spread the teachings of his Guru throughout the world. One of the most famous and influential spiritual leaders of India, he sought to promote the philosophies of Vedanta and Yoga. Swami Vivekananda was the first spiritual leader of India who introduced Hinduism, Yoga and Vedanta at the World's Parliament of Religions. Read this biography further to know more about Swami Vivekananda, his teachings and his life history.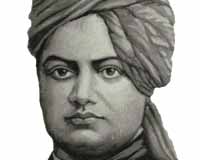 Early Life
Swami Vivekananda was born as Narendranath Dutta in Calcutta (now Kolkata), in the year 1863. Even as a child, Narendra showed a high level of intelligence and a deep inclination towards meditation. He joined Presidency College of Calcutta in 1879 for one year and then entered Scottish Church College to study philosophy. By this time, Narendra started questioning God and His presence. He also became a part of the Brahmo Samaj, a religious movement. Unsatisfied with only congregational prayers and devotional songs, he started looking elsewhere to find answers to his questions.

Meeting Ramakrishna and Renunciation
His search led Narendra towards Ramakrishna, whom he met in November 1881. After testing Ramakrishna to his maximum limit, Narendra accepted him wholeheartedly as his Guru. He remained with Ramakrishna for a period of five years. After the death of his Guru, Narendra took his vows as a monk, renounced the world and became Swami Vivekananda. In July 1890, Narendra started his journey as a wanderer, roaming around the country promoting the teachings of his Guru.

Ramakrishna Mission
Swami Vivekananda established the Ramakrishna Mission to spread the teachings of his Guru, Ramakrishna, far and wide. He left for the holy abode in 1902, at the Belur Math, near Calcutta.

Swami Vivekananda Teachings
Each individual is himself responsible for making or breaking his life. He should concentrate on his goal and should not rest until it is achieved.

God in Nirankar (formless), with attributes.

God is one and different religions serve as a path towards the same God.

God is present in every living being and he, who serves others, serves God.

Human being should strive towards truth, purity, sincerity, morals and unselfishness.

The quintessence of every religion is to make people realize the highest spiritual truth.

To be good and to do good is the main aim of every individual.
Swami Satyananda Saraswati
About Swami Satyananda Saraswati
Swami Satyananda Saraswati belonged to the Dashnami lineage of Adi Shankaracharya. He is one of the members of the tribe of Swamis who are called for the order of "Saraswati". In the other words, he is one of the sanyasi-scholars, who live the life of a Brahmin and believe in both knowledge and devotion. Paramahamsa Satyananda Saraswati is one of the most famous Yoga Gurus, not only in India, but also in the West. Get to know more about the guru with this biography.

His Life History
Swami Satyananda Saraswati was born in the year 1923, in Almora town of Uttar Pradesh. At the tender age of six, Satyananda started having spontaneous psychic and spiritual experiences. During such events, he used to become completely unaware of his body for quite a long time. By the time he reached fifteen years of age, Satyananda started practicing Kundalini Yoga. In another two years, he began asking complex questions like 'what is the difference between perception and experience?'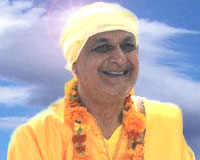 At nineteen years, he decided to find a Guru who would guide him towards the highest state of consciousness and left his house in this pursuit. It was in the year 1943 that he met Yoga Master Swami Sivananda Saraswati in Rishikesh city of Uttar Pradesh and his search came to an end. He stayed with the Guru for a period of three years. Thereafter, he was initiated by Sivananda Saraswati into the Dashnami order, as a Poorna as well as a Paramahamsa Sanyasi. He was then given the name of 'Swami Satyananda Saraswati'.

Paramahamsa Satyananda completed his initial sanyas training of twelve years in the year 1956. This was followed by his initiation into Kriya Yoga, again by Swami Sivananda. Thereafter, he began to practice Parivrajaka (Mendicant) stage of sanyasa. During this period, Swami Satyananda Saraswati traveled all over the Indian subcontinent. This travel helped him in meeting numerous saints of that time as well as knowing the needs of the society. Swamiji spent years in seclusion, practicing and perfecting his Yoga Sadhana.

Swami Satyananda Saraswati went on his first World Tour in 1968, under the guidance of his Guru. This was followed by several international and national tours, to promote the teaching of yoga. In July 1963, after Swami Sivananda Saraswati passed away, Swami Satyananda established the headquarters of his mission in Munger city of Bihar. In the subsequent years, he set up the Bihar School of Yoga, International Yoga Fellowship Movement, Sivananda Math and the Yoga Research Foundation.

Recognition
In 1973, Paramahamsa Satyananda Saraswati was recognized as an Adept (God realized Yogi). The International Yoga Convention was held to commemorate the Sanyasa Golden Jubilee renunciation of Swami Sivananda. It was here that the renowned saints and sages of India accepted him as one of the principal experts in the filed of esoteric knowledge as well as the leading proponent of Yoga.

In the years that he devoted to Yoga teaching, Swami Satyananda Saraswati mastered over eighty masterful Yoga texts. He renounced teaching, in 1988, to take up the lifestyle of a Paramahamsa. After settling in the small village of Rikhia, he has been leading a life of meditative seclusion. Today, he involved in the practice of the severest of the Vedic Sadhanas, such as the Panch Agni Sadhana. He still meets people once in a year, for few weeks, to share his radiance of truth with them.

Works
Founded 'Sri Panch Dashnam Paramahamsa Alakh Bara' at Rikhia (1900)

Inaugurated 'Raj Sooya Yajna', an ancient Vedic ceremony (2001)
Sadhguru Jaggi Vasudev
About Sadhguru Jaggi Vasudev
Sadhguru Jaggi Vasudev is a world-renowned mystic and yogi of Indian origin. The founder of Isha Yoga as well as of Isha Foundation, he is also a very famous poet. His aim in life is to help people in manifesting their own spirituality. Sadhguru Jaggi Vasudev has several yoga centers, set up in the various cities of India as well as the United States. He was a delegate to the United Nations Millennium World Peace Summit and even participated at the World Economic Forum in 2006 & 2007. Read this biography to know more about the guru.

His Life History
Sadhguru Jaggi Vasudev was born in Mysore city of India, to a physician father. Right from childhood, Vasudev was quite different from the others. At the tender age of thirteen years, he started yogic practices, like Pranayams and Asanas, under the guidance of Shree Raghavendra Rao (Malladihalli Swami). He completed his graduation from the Mysore University of Karnataka. When Vasudev was twenty-five years old, he witnessed an unusual incident that led him away from the material things in life and towards renunciation.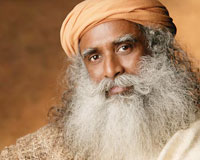 One afternoon, Sadhguru Jaggi Vasudev went to the Chamundi hills and sat on a rock with his eyes wide open. Suddenly, he had an out of body experience. He felt as if he was not in his body anymore, rather spread out everywhere, in the rocks, in the trees, in the earth. By the time he came back to his senses, it was already evening. In the days that followed, Vasudev experienced the same situated again, a number of times. Whenever, he underwent such an experience, he went without food and sleep for the next three or four days.

This episode entirely changed his way of life. Jaggi Vasudev decided to dedicate his entire life to the sharing of those experiences. In the year 1992, the guru and his followers founded the Isha Yoga Center and Ashram. It is situated at the foothills of the sacred Velliangiri Mountains at Poondi, near Coimbatore. The center is spread over an area of 50 acres and houses a massive 13 ft Dhyanalingam, a meditation shrine. There is also a multi-religious temple inside the complex, which was completed in 1999.

It is said that the Dhyanalingam has curative powers and bestows well being and prosperity. Since it is a meditation shrine, it is believed to be reservoir of energies from the people who have meditated there. People can sit inside the Dhyanalingam and meditate for as much time as they want. Isha Yoga Center also houses the Isha Foundation. Started by Sadhguru Jaggi Vasudev, the foundation administers more than 25 yoga centers, a medical center and an orphanage in India, apart from three yoga centers in the United States.

Isha Yoga
Isha Yoga is basically a form of science, which is subtle yet very powerful. It is based on the principle in which the body is believed to be the temple of the spirit. At the same time, good health is considered as fundamental to physical as well as spiritual development. The main aim of Isha Yoga is to cultivate and promote best possible health, along with peace and calmness. It intends to assist the natural process of unfolding in each and every person. The inner chemistry of a person is changed to release the physical, mental and emotional blocks.
Sri K. Pattabhi Jois
About Sri K. Pattabhi Jois
Sri K. Pattabhi Jois, or Sri Krishna Pattabhi Jois, counts amongst the world-renowned yoga teachers of India. A student of Sri Tirumalai Krishnamacharya, he is currently teaching at the Ashtanga Yoga Research Institute of Mysore, founded by him. His yoga shala attracts thousands of foreign students every year. Let us move on further to explore the complete biography of Sri K. Pattabhi Jois.

His Life History
Sri K. Pattabhi Jois was born as Krishna on 26th July 1915 in the village of Kowshika, situated near Hassan city of Karnataka. It was at the age of twelve years that Krishna realized his aim in life. In his twelfth year i.e., 1927, he attended a lecture and demonstration given by S. T. Krishnamacharya in the Hassan city. Pattabhi Jois got so impressed by the lecture that, on the very next day, he became Krishnamacharya's student and continued his study for the next twenty-five years.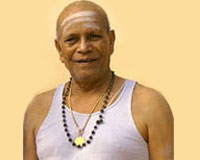 In the year 1929, Jois ran away from his home and went to Mysore, in order to study Sanskrit. By coincidence, Krishnamacharya also left Hassan to teach somewhere else. Somehow, he also made his way to Mysore and met Jois once again after a gap of two years. During this time, Krishnamacharya had cured Maharaja of Mysore, Krishna Rajendra Wodeyar, of a very seriously illness. As an expression of his gratitude, the Maharaja had established a Yoga shala for him on the palace grounds.

Sri K. Pattabhi Jois remained with his Guru until 1941, when he left for Madras. However, Jois continued staying in Mysore afterwards and married a young woman named Savitramma (popularly known as Amma), with whom he fell in love. The marriage took place in June 1937 and they were later blessed with three children Saraswati, Manju and Ramesh. In 1948, Sri K. Pattabhi Jois managed to buy a home in a section of town, called Lakshmipuram, with the help of his students.

After buying the house, he established the 'Ashtanga Yoga Research Institute' there. Jois taught yoga at the Sanskrit College for a number of years and became a professor in 1956. In 1958, he started writing Yoga Mala, which was published in India in 1962. The first English version of the book came out in 1999. Even today, Jois teaches yoga, with his daughter Saraswati and his grandson Sharath, at the Ashtanga Yoga Research Institute, which is now located in the neighborhood of Gokulum.
Swami Yogeshwaranand Saraswati
About Swami Yogeshwaranand Saraswati
Swami Yogeshwaranand Saraswati was counted amongst the most popular as well as most learned Yogis of the 20th century. His life, which was spent mostly in the Himalayas, is the perfect example of extreme renunciation and asceticism. Yogeshwaranand devoted himself completely towards the realization of the soul and God. He was a major proponent of yoga and aimed at reviving the ancient science. With this biography, you will be able to know more about Swami Yogeshwaranand Paramahansa.

His Life History
Swami Yogeshwaranand Saraswati was born as Brahmachari Vyas Dev ji, to extremely rich parents. However, he left his home at the tender age of twelve, in search of knowledge and self-realization. His entire youth was spent in studying Sanskrit language and mastering the scriptural knowledge. Some time later, he went to the Himalayas and practiced the most difficult tapasya and yogic sadhana. All the while, he was in the search of a guru, who could help him in attaining his goal.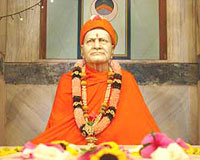 In the process, he came across Yogi Paramananda Avadhoot, a great ascetic who helped him in perfecting shunya (void) samadhi. However, his search for a real guru ended when he met Avadhoot Swami Atmanand ji in a cave near Gangotri (in Himalayas). From Atmanand ji, he got to learn Samprajnata samadhi and awareness of various processes of nature in the state of samadhi, the ultimate divine knowledge. Throughout his life, he kept meeting great ascetics, learned from them and attained higher stages in yoga and meditation.

Some of the Samadhis of Swami Yogeshwaranand Saraswati lasted for several weeks. In the end, he used to wake up with advanced knowledge of self-realization, origin & conclusion of cosmos and the objective of human existence. Throughout his life, he imparted his knowledge to people belonging to different faiths as well as different countries. Swami Yogeshwaranand Paramahansa also traveled abroad to spread knowledge. He breathed his last on 23rd April 1985, at the age of ninety-nine.
Tukaram
About Sant Tukaram
Tukaram was one of the greatest poet saints ever born in India. It is quite renowned for his contribution to the Bhakti Movement of Maharashtra. Read this biography further to know more about the Sant Tukaram.

Early Life
The exact records related to the life history of Tukaram are not available. So, there is a little disagreement regarding his exact birthdate. It is considered to be one of the four - 1568 AD, 1577 AD, 1608 AD or 1598 AD. He was born in Dehu, near the Pune city to a trader father. He was married twice. His first wife died of starvation, during a period of severe famine. While, his second wife constantly nagged him for not being able to properly support his family.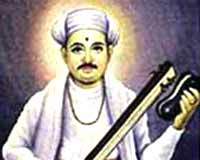 Enlightenment
Tortured by the death of his first wife, the constant nagging of the second and the failure in his spiritual quest, Tukaram went into a severe depression. By the age of twenty-one, he had lost all the hopes in life and was at the threshold of death. At this point of time, he had a dream, in which one Babaji Chaitanya initiated him into the spiritual path. That particular moment changed his destiny and he started his journey as one of the best poet saints of the country.

Teachings of Sant Tukaram
An individual should make God the center of his universe. Serving others and loving others is the best way through which we can find Him.

For the attainment of sadhana, an individual needs to have faith in his/her destiny.

It is not necessary to renounce the world and lead the life of an ascetic in order to be one with God. Spirituality does not require elaborate rituals.

Nama Japa (reciting the name of Lord) is the most important privilege of being a devotee.

Siddhis serve as impediments in the attainment of genuine sadhana (meditation).

Traditions prevent an individual from budding in the love of God. One has to sidestep the usual customs to achieve the same.
Shri Yogendra
About Shri Yogendra Shri Yogendra was the founder of 'The Yoga Institute' situated in Santa Cruz, Mumbai. A firm believer of yoga, he founded the institute to promote the science of Yoga throughout the world. He was also credited with the revival of the classical yoga ideals. Read this biography further to know more about Shri Yogananda.

His Life
The life history of Sri Yogendra tells us that he was born on 18th November 1897. When his met Guru Paramahamsa Madhavadasaji, he was still in college. The meeting with Paramahamsa Madhavadasaji made Yogendra a devoted believer of Yoga. He joined Paramahamsa Madhavadasaji's ashram in Malsar city of Gujrat and started studying Yoga sincerely. After completing his training, he decided to leave the ashram, in order to propagate the benefits of Yoga amongst the masses. Shri Yogendra left the world in 1989, passing on his legacy to his son, Dr. Jayadev.

Establishment of 'The Yoga Institute'
Shri Yogendra was also a brilliant poet. Mr. Masani, an influential person from Mumbai, once came across is poetry. Impressed with Shri Yogendra, he invited him to his home in Versova, Mumbai. Mr. Masani offered him his own house as an ashram. This laid the foundation of The Yoga Institute of Mumbai.

About The Yoga Institute
One of the oldest organized Yoga enters in the world, The Yoga Institute of Mumbai is a non-profit organization. It aims at helping people in physical, moral and psychic development, with yoga as an aid.
Swami Sivananda
About Swami Sivananda
Swami Sivananda was a responsible for promoting the philosophy of Yoga and Vedanta amongst the people of India as well as the world. He was also the founder of the Divine Life Society, apart from being the author of more than 200 books, on Yoga, Vedanta, etc. read on this biography to know more about Swami Sivananda and his life history.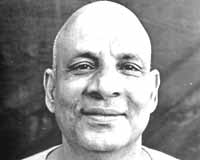 His Early Life
Swami Sivananda was born as Kuppuswamy on 8th September 1887, in Pattamadai, Tamil Nadu. The third son of his parents, Kuppuswamy displayed great intelligence right from his childhood. While completing his medical studied from Tanjore, he started a medical journal called Ambrosia. After graduating in medicine, he started practicing in Malaysia for a prod of ten years. He always used to treat the poor people free of cost.

As time passed, he started feeling that medicine cured a person only at a superficial level, without even touching their soul. People are affected by problems only at a physical level, but also at the spiritual level. His spiritual quest made him leave Malaysia in 1923 and come back to India.

Meeting Swami Vishwananda Saraswati and Initiation
After coming to India, Kuppuswamy started visiting various pilgrimage destinations. He met Swami Vishwananda Saraswati in Rishikesh in 1924 and took him as his Guru. Vishwananda initiated him into sanyas (asceticism) and gave the name of Swami Sivananda. However, Swami Vishnudevananda, the Mahant of Sri Kailas Ashram, performed the rest of the Viraja Homa ceremonies later. In 1927, Sivananda started a charitable dispensary at Lakshmanjula, where he treated pilgrims, holy men and the poor. Swami Sivananda left the world on 14 July 1963, on the bank of Ganges, in Shivanandanagar.

Foundations set up by Swami Sivananda
Divine Life Society (1936)

Sivananda Ayurvedic Pharmacy (1945)

All-world Religions Federation (1945)

All-world Sadhus Federation (1947)

Yoga-Vedanta Forest Academy (1948)
Swami Sivananda Yoga
Sivananda Yoga is a type of Hatha Yoga, which lays stress on asanas (postures), savasana (relaxation), pranayama (proper breathing), diet (vegetarian) and Vedanta and dhyana (positive thinking and meditation).
Sri Sri Ravi Shankar
About Sri Sri Ravi Shankar
Sri Sri Ravi Shankar is a famous spiritual leader of India. He is credited with being the initiator of a foundation, known as the Art of Living Foundation. His aim in life is to teach people cope up with the stresses of everyday life and be at peace with themselves. He is also the founder of a number of charitable organizations, like the International Association for Human Values. Read this biography on Sri Sri Ravi Shankar further, to know more about him and his life history.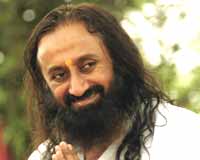 His Life
Sri Sri Ravishankar was born in 1956 in the southern part of India. It is said that at the tender age of four, he could recite parts of the scared Bhagwad Gita. By time he was 17 years old, he had already attained an advanced degree in Modern Physics. Some time later, he received an Honorary Doctorate from Kuvempu University of India. Other than that, there is very little information on the childhood and the early life of Sri Sri Ravishankar.

Receiving Enlightenment
It is believed that Sri Sri Ravi Shankar received Enlightenment in the year 1982. He had retreated into silence and on the tenth day of his silence, he became Enlightened. Enlightenment also bestowed Ravi Shankar with the technique of Sudarshan Kriya, a rhythmic breathing exercise.

Establishing Art of Living Foundation
In 1982, the year he received Enlightenment, Sri Sri Ravi Shankar established the Art of Living Foundation. Thorough this foundation, he promoted the Sudarshan Kriya. Today, his foundation is considered to be one of the largest volunteer-based educational and humanitarian organizations in the world. In 1997, he founded the International Association for Human Values (IAHV), along with Dalai Lama and a number of other people.

Philosophy of Sri Sri Ravi Shankar
Sri Sri Ravi Shankar teaches people to replace hatred and suffering with love and wisdom. He spreads the message of universal love, peace and brotherhood throughout the world. He aims at promoting spirituality amongst people and making them realize that there is goodness in every individual. He advises people to accept as well as respect each other.
Patanjali
About Patanjali
It is believed that Maharishi Patanjali was the avatar of Adi Shesha - the Infinite Cosmic Serpent upon whom Lord Vishnu rests. He is considered to be the compiler of the Yoga Sutras, along with being the author of a commentary on Panini's Ashtadhyayi, known as Mahabhasya. He is also supposed to be the writer of a work on the ancient Indian medicine system, Ayurveda. Read on this biography further to know more about Maharishi Patanjali and his philosophy.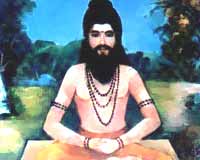 His Life
The life history of Patanjali is full of legends and contradictions. There are no authentic records regarding his birth. As per one legend, he fell (pata) into the hands (anjali) of a woman, thus giving him the name Patanjali.

Patanjali Yoga Sutras
It is said that once, while watching a dance by Lord Shiva, Adi Shesha found it unbearable to support the weight of Lord Vishnu. Amazed at this, he asked Lord Vishnu the reason for the same. Lord Vishnu said that this was because of his harmony with Lord Shiva's energy state, owing to the practice of Yoga. Realizing the value and benefits of Yoga, Adi Shesha decided to be born amongst humans as 'Patanjali', to teach them the great art.

Yoga Sutras are considered to serve as the basis of the yogic techniques. Maharishi Patanjali, "The Father of Yoga", compiled 195 sutras, which serve as a framework for integrating Yoga into the daily routine and leading an ethical life. The exact date of the compilation of the Yoga Sutras is not known. However, it is believed that they were written somewhere around 200 BC. The core of Patanjali's teachings lies in the eightfold path of yoga. The path shows the way to live a better life through yoga.