\
Hindu Of Universe

HinduOFUniverse
Space Available for Advertisements
Contact: +92-03333130724
Space Available for Advertisements
Contact: +92-03333130724
Space Available for Advertisements
Contact: +92-03333130724
Space Available for Advertisements
Contact: +92-03333130724
Space Available for Advertisements
Contact: +92-03333130724
Space Available for Advertisements
Contact: +92-03333130724

HinduOfUniverse
Amarnath Yatra
One of the most important events during July/ August is Amarnath Yatra to the Holy Pilgrimage. This is an annual event when thousands of Hindus from different corners of the Globe visit Amarnath caves. The pilgrims trek from Pahalgam to these caves and worship the great ice Lingam.

Legend has it that Shiva recounted to Parvati the secret of creation in a cave in Amarnath. Unknow to them, a pair of mating doves eavesdropped on this conversation and having learned the secret, are reborn again and again, and have made the cave their eternal abode.Many pilgrims report seeing the doves-pair when they trek the ardous route to pay obeisance before the ice-lingam (the phallic symbol of Shiva).

This is an event you certainly will talk about for the rest of your life.

July is time for the annual Amarnath Yatra one of the most sacred and popular pilgrimages to the holy snow-clad cave shrine of Lord Shiva in the beautiful northern Indian state of Jammu & Kashmir. Of all Hindu pilgrimages, Amarnath situated at an altitude of 3,880 metres in the southern Kashmir Himalayas is considered one of the holiest.

Darshan at the Holy Cave is generally open from early July (Ashad Purnima) to early August (Sharvan Purnima). In 2001, the pilgrimage started on July 4, and in its first week drew more than 10,000 pilgrims for the darshan of the naturally-formed ice Shiva Lingam at the holy cave shrine, according to official records. Since July 2 onwards, 3,500 pilgrims set off daily from the base camp in Jammu to Amarnath. The yatra or pilgrimage that year concluded on August 4, the day of the "Raksha Bandhan" festival.
YATRA DATE : 07 JUNE 2009 TO 05 AUGUST 2009
HELICOPTER & HUT ACCOMMODATION
FACILITY FOR YATRA – 2009
FOR BOOKING AND ANY OTHER QUERIES PLEASE CONTACT :-
SHIRAZ TRAVELS
SHIRIN MANSIONS,
LAMBERT LANE,
RESIDENCY ROAD,
SRINAGAR – 190001
J&K
TEL: 0194-2455221, 2455701, 2455705
FAX: 0194-2473623
MOBILE: 09419002830, 09906500102
Email: shiraztravels@yahoo.com
ONLINE REGISTRATION FOR YATRA – 2009 WILL START ON 20-MAY-2009
The Legend

Yatra Dates for 2009 – 07.06.2009 TO 05.08.2009
There is famous Rigvedic Verse that says "Ekam Sat " that is "There is one Being ,the sages call Him by many names." The God (Parmeshwar) has three deities who carry on the world .This is Known as Holy Trinity. Brahma- the creator, Vishnu - the perpetuator of life and Shiva (Mahesh ) -the purifier and perpetuator of good and destroyer of evil. Rig Veda refer Shiva as Rudra as in its following verse . "We Worship Tryambaka (Rudra) , Who spread Fragrance and Increases Nourishment , May He release me ,like the cucumber from its stem , From Mortal Life , But not From Immorality . "(Rig Veda Mandal VII Sukta 59 and Mantra 12)
The Yajurveda describes Shiva as ascetic warrior Whose robe is of Deer Skin and He carries Trishul .
According to the verse Satyam, Shivam ,Sundaram ,the life is described as having three facets Truth (Satyam), Good (Shivam) and the Beautiful (Sundaram).
Shiva is a living God. The most Sacred and ancient books of India, the Rig Veda narrates His presence in the hymns. Vedic myths, rituals and even astronomy testifies to His existence from the dawn of time .The Mohindaro and Harapa findings confirm Shiva worship in the ancient India. According to the older scriptures, He has three places of His residence. One is Kailash Parvat another is Lohit Giri under which Brahamputra flows and third is Muzwan Parvat .
The Amarnath Cave has special significance .
The Legend about the importance of Amarnath Cave is as follows :-
This is The Cave which was chosen by Bhole Shankar for narrating the secrets of immortality and creation of Universe to Maa Parvati ji . The story goes like this . Centuries ago Maa Parvati asked Shiv ji to let her know why and when He started wearing the beads of heads ( Mund Mala) . Bhole Shankar replied when ever you are born I add one more head in my beads . Maa Parvati said ," My Lord, my body is destroyed every time and I die again and again, but you are Immortal. Please let me know the secret of this ." Bhole Shankar replied that it is due to Amar Katha ."
Maa Parvati insisted that she may be told that secret. For long Shiva ji continued postponing . Finally on consistent demand from Maa Parvati He made up his mind to tell the immortal secret . He started for lonely place where no living being could listen it . He choose Amarnath Cave . In preparation to that He left His Nandi ( The Bull which He used to ride ) at Pahalgam (Bail gaon) . At Chandanwari He released Moon from his hairs (Jataon). At the banks of Lake Sheshnag He released the snakes . He decided to leave his Son Ganesha at Mahagunas Parvat (Mahaganesh Hill ) . At Panjtarni, Shivji left the Five Elements behind (Earth , Water, Air , Fire and Sky) which make living being . He is the Lord of these elements. It is believed that as a symbol of sacrificing the earthly world , Shivaji and Maa Parvati had Tandav Dance . After leaving behind all these, Bhole Shankar enters the Holy Amarnath Cave along with Parvati Maa . Lord Shiva takes his Samadhi on the Deer Skin and concentrate . To ensure that no living being is able to hear the Immortal Tale , He created Rudra named Kalagni and ordered him to spread fire to eliminate every living thing in and around the Holy Cave . After this He started narrating the secret of immortality to Maa Parvati . But as a matter of chance one egg which was lying beneath the Deer skin remained protected . It is believed to be non living and more over it was protected by Shiva -Parvati Asan (Bed) . The pair of pigeons which were born out of this egg became immortal having listened the secret of immortality (Amar Katha).
Many pilgrims report seeing the pair of pigeons when they trek the arduous route to pay their obeisance before the Ice-Lingam (the phallic symbol of Shiva).
Discovery of Holy Cave
The story narrated by people about the discovery of this Holy Cave is of a Gujjar ( shepherd) Buta Malik . He is given the credit of discovering this Holy Cave . Story goes like this , that a saint gave Buta Malik a bag full of Coal. On reaching his home when he opened the bag , to his utter surprise the bag was full of gold coins . This made him overwelmed with joy. He ran to thank the Saint . But, what he found was that the Saint had disappeared . Instead , he found The Holy Cave and Shiv Lingam there in . He announced the discovery of this to the Villagers. Then onwards this has become the sacred place of Pilgrimage .
The ancient epics narrate an other story which goes like this. The valley of Kashmir was under water .It was a big lake. Kashyap Rishi drained the water through number of rivers and rivulets . In those days Bhrigu Rishi came that way on a visit to The Himalyas. He was the first to have Darshans of this Holy Cave . When people heard of the Lingam, Amarnath for them became Shiva's abode and a Centre of pilgrimage . Since then Lacs of devotees perform the pilgrimage through tough terrain and avail eternal happiness.
The trek to Amarnath, in the month of sharavan ( July–August) has the devout flock to this incredible shrine, where the image of Shiva, in the form of a Lingam, is formed naturally of an Ice Stalagmite, which waxes and wanes with the Moon's cycle . By its side are fascinating, two more Ice Lingams, that of Maa Parvati and of their son, Ganesha .

Amarnath Yatra
When To Take UP Yatra
The Amarnath Yatra is organised every year by the J &K Govt. during the month of sharavan ( July and August); the dates however , vary every year looking at the weather conditions and according to Purnima (Raksha Bandhan) in the month of Sharavan (Vikrama Samwat).
Yatra to Baba Amarnath Holy Cave for which one has to trek a height of about 14,500 ft is full of thrill and joy .The feeling of divine which is always beneath ones' heart , burst out and one realises 'Moksha' as one attends the Cave and perform the prayer before the Shivlinga . Surrounded by beautiful valleys, mountains , one will always feel His presence on the paradise of the earth, the memory of which hardly vanishes with time A journey which will rediscover the nature and its love which is always inside but one has never felt.
CLIMATE
The climatic conditions are very uncertain . Rain or snowfall may take place at any time or place during the Yatra . It is to be particularly noted that abrupt changes in temperature might occur . Sunny weather may turn into rain / snow fall in a short time . The temperature may fall upto -5 degree C .
How to Perform Pilgrimage
For performing this Yatra, one is required to get registered . The registration is done by J &K Govt. Tourist Offices, located at Delhi , Mumbai, Calcutta, Chennai, Ahmedabad, Hyderabad, Jammu and Srinagar.
Applications for registration in the prescribed format which is reproduced here .You can get the print out of this form and this can be used for registration .The filled in form should be sent to the registration office nearest to you , along with two passport size photographs duly affixed at the indicated places, a self addressed pre stamped envelope (for speed post) and a medical fitness certificate from an MBBS doctor . Each yatri has to submit a seperate application for registration. Every yatri will be issued a registration-cum-identity slip by the registration authority. Yatris are advised to carry this identity slip during the Yatra period to ensure a smooth passage .
Travelling Expenditure:
Bus Fare (Per Person)
DELUXE
SEMI-DELUXE
ORDINARY
ARTP
Jammu To Pahalgam
Rs. 200.00
Rs. 155.00
Rs. 130.00
Rs. 220.00
Jammu To Baltal
Rs. 240.00
Rs. 200.00
Rs. 160.00
Rs. 270.00
Taxi Fare (Per Person)
TATA SUMO ( 7 Seater )
AMBASSADOR / VAN ( 5 Seater )
Jammu To Pahalgam
Rs.360.00
Rs. 520.00
Jammu To Baltal
Rs. 550.00
Rs. 760.00
Other Expenditure:
Chandanwari to Holy Cave
Rates as per J&K Government (up & down)

Coolie Labour
Rs. 1100.00
Dandi
Rs. 7000.00
Ponny
Rs. 2300.00
Baltal to Holy Cave
Rates as per J&K Government (up & down)

Coolie Labour
Rs. 700.00
Dandi
Rs. 3500.00
Ponny
Rs. 1100.00
NOTE : The above rates are fixed by J & K Tourism .These are maximum rates. However , Yatris can avail the above facilities at lower rates depending upon their bargaining power.

All Yatris are advised the following :
Insurance : In view of the hazardous nature of the Yatra, pilgrims are advised to get themselves insured suitably. It is advisable that insurance cover may be got done before leaving their place of residance.
Accommodation :

Bhole Bhandari Charitable Trust (Regd.)
provides tented accommodation & Community Kitchen (Langar) to the pilgrims TOTALLY FREE OF COST. This year this service will be made available at Panchtarni . Your valuable suggestions are solicited by filing up the form provided here on the website .
Free accommodation is also being provided by other Non Government Charitable Organisations. However, J&K Tourism Development Corporation too provides tented accommodation and shelters at nominal charges.

Personal Tips :
Because of the unpredictable weather conditions, which often are wet and extremely cold during the Yatra period, pilgrims are advised to carry rain coat, woollen clothing, small umbrella (with head elastic band and strap around chin), walking stick , dry fruits, torch and personal medical kits etc.
Route Map
Situated in a narrow gorge at the farther end of the Lidder Valley, Amarnath Holy Cave stands at 3,888 mtrs. and is 363 kms. from Jammu Via Pahalgam and about 414 kms. from Jammu Via Baltal. The detailed description of the two routes to the Holy Cave is given below:
 How to Reach
                 One can reach the first part of journey through ;
 Air:
         The nearest aerodrome is Srinagar. Srinagar is a beautiful valley having world famous sights to see, such as Dal Lake, Nagina Lake, Shankaracharya Temple, Mughal Gardens and what not. It is the most sought after  tourist place. It is also known as "Paradise on earth". Srinagar is summer capital of Jammu & Kashmir. There are daily flights to Srinagar from Delhi and Jammu. On some week days flights also pickup  passengers from Chandigarh and Amritsar .
 Rail:
           Jammu is the nearest Railway Station . Jammu is winter Capital of Jammu & Kashmir. Jammu is a beautiful city and is also known as "CITY OF TEMPLES". One may  visit old temples such as Raghunath Temple , Mahadev Mandir and other temples . It is well connected with all stations of India.The various trains coming to Jammu are listed here below.
Road :
          Jammu and Srinagar are also connected through road. Buses and Taxies are also available for this part of the  journey .These can be hired on daily as well as full tour basis.
How to Reach Amarnath Holy Cave :
          Though it is tough route still nearly one and a half  lac pilgrims visit  every year . The number of pilgrims is increasing every year. The journey from Jammu onward is by road and there are two routes . The details are given here.
1) JAMMU – PAHALGAM – HOLY CAVE. (Traditional Route)
Jammu to Pahalgam (315 km) – The distance between Jammu to Pahalgam can be covered by Taxi / Buses. These are  available at Tourist Reception Centre, J & K Govt., Raghunath Bazaar only early in the morning. But one can also come to Srinagar by air and then move to Pahalgam by road
PAHALGAM  – HOLY CAVE.

---
PLACE

ALTITUDE

DISTANCE

FROM

MTRS

FEET

CHANDANWARI

2895

9500

16.0 KM

PAHALGAM

PISSU TOP

3377

11000

3.0 KM 

CHANDANWARI

SHESHNAG

3352

11730

11.0 KM

PISSU TOP

MAHAGUNAS

4276

14000

4.6 KM

SHESH NAG

PANCHTARNI

3657

12000

9.4 KM

MAHAGUNUS TOP

SANGAM

 -

- 

3.0 KM

PANCHTARNI

HOLY CAVE

3952

13000

3.0 KM

SANGAM
---

1. PAHALGAM :
          It is 96 KM from Srinagar .This distance can be covered by car,bus or taxi. Pahalgam is  known all over the world  for its beauty. It is small town situated on the banks of Lidder River. It is surrounded by high mountains. All essentials can be bought here. Good Hotels are  available for accommodation. However the arrangements for stay and Langar are also made  by the Non Government  Service Organisations.
2. CHANDANWARI:
          The distance from Pahalgam to Chandanwari is 16km. The route is good .It can be covered by road transport also. Mini buses are also available from Pahalgam to reach Chandanwari. The trail runs along the Lidder River . The route is scenic. Food is available here. Pilgrims camp at Pahalgam or Chandanwari on the first night .
3. PISSU TOP : 
          As the Yatra proceed further from Chandanwari one climbs a height to reach Pissu Top. It is said  that to be first to reach for darshan of  Bhole Nath Shivshankar there was a war between Devtas and Rakshas . With the power of Shiv , devtas could kill the rakshas in such large number that the heap of their dead bodies has resulted in this high mountain. 
4. SHESHNAG:
         This second day's trek of 12 kms  from Chandanwari is through Pissu Top and   spectacular, primeval countryside, and reaches Sheshnag – a mountain which derives  its name from its Seven Peaks, resembling the heads of the mythical snake. The Journey to Sheshnag follows steep inclines on the right bank of a cascading stream and wild scenery untouched by civilisation. The second night's camp at Sheshnag overlooks the deep blue waters of Sheshnag lake, and glaciers beyond it. There are legends of love and revenge too associated with Sheshnag, and at the camp these are narrated by campfires . The stillness of a pine scented Himalayan night increases your inner joy. Yatris can take bath and get their fatigue alleviated. It is beautiful and scenic. 
5.PANCHTARNI: 
       From Sheshnag one has to climb steep height up across Mahagunas Pass at 4276 mtrs.(14000 ft) for 4.6 KM and then descending to the meadow lands of Panchtarni at a height of 3657 mtrs (12000 ft). The last camp enroute to the Holy Cave is made here on third day. Here one faces cold winds which cause the  skin to crack . Hence cold cream / Vaseline are very useful for protection of skin. Some Yatris are also effected by deficiency of oxygen .Some may get the feeling of vomiting . So dry fruit like Allu Bukhara ,sour and sweet  eatables like Lemon are useful to control these symptoms .  The route to Mahagunas is full of rivulets , water falls , springs . Panchtarni is a very beautiful place in the feet of BHAIRAV MOUNT. Five Rivers flow  here . It is said that the five rivers origanated from Lord Shiva's Hairs (Jataon). Pilgrims camp at Panchtarni on the 3rd night. 
6. THE HOLY CAVE SHRI AMARNATH: 
The Holy Cave of Shri Amarnath is only 6 kms from Panchtarni. As there is no place to stay hence the pilgrims start in the  early hours of the morning after their stay at Panchtarni. On the way to The Holy Cave one comes  across  the Sangam of Amravati and Panchtarni. Some pilgrims take bath at Amravati near holy cave  to become pious before going for Darshan. Near the cave is found white soil known as Bhasam. It is the most beloved soil of Shiv ji . The pilgrims apply this Holy soil to their body and then go for Shivlingam Darshan. There are two smaller Shivlings one of Maa Parvati and other of Shri Ganesh. It may be noted that after having  early Darshan of the Shivlinga at Holy Cave one can return to Panchtarni well in time the same day . Some pilgrims camp at Panchtarni while others continue their journey and reach back Sheshnag by the same  evening.
2) Jammu – Baltal – Holy cave (414km)

Jammu – Baltal (400km). –
The distance between Jammu and Baltal can be covered by Taxis / Buses available at Tourist Reception Centre, J & K / bus stand or one can come to Srinagar by air and then reach Baltal by road. The road route followed is :
JAMMU – Udhampur – Kud -  Patnitop – Ramban – Banihal – KaziGund – Anantnag – Srinagar - Sonamarg – Baltal.
The journey from Jammu to Baltal which is about 400 kms. is full of beautiful Sites and one can experience of being in Heaven , a  Paradise on earth. Passing through beautiful valleys, steeped mountains, one is sure of forgetting , oneself as a person ,for a while . A thrill, which is obviously there in every pilgrim gets enhanced while passing through this way owing to the Darshan of Holy Cave. In nutshell, a journey which can go down to your memory throughout the lifetime.
Baltal to Holy Cave
From Baltal Holy Cave is just 14 Kms.

This distance can be covered by foot / Ponies. However, Dandies are also available for handicapped and old aged pilgrims.
The width of the pebbled (kuchha) road is a bit narrow as compared to the Chandanwari-Holy Cave route, moreover , there are some steep rises & falls on the way , as compared to the Chandanwari route, but pilgrims can return back to base camp Baltal through this route only in one day.
To reach Jammu from different parts of country :
Bus Services :Govt. Bus Services are available from Delhi, Punjab, Haryana, Himachal to Jammu
Schedule of Trains to Jammu Tawi from various Stations please visit  :                                                http://www.indianrail.gov.in/inet_metro_trns.html
Airline Services : You can reach Jammu, Srinagar by Air from different parts of the country. For latest information please contact the Indian Airlines office. From Srinagar you can go to Pahalgam / Baltal  by Bus /Taxi.Approximate fare from Jammu to Srinagar is Rs.1300.00 per Person by Jet Airways.
For further Information regarding flights visit at : www.jetairways.com

---
Pictorial View
---
| | |
| --- | --- |
| | View of Chandanwari Side taken from Pissutop |
| | |
| --- | --- |
| Beautiful View of Sheshnag Lake | |
| | |
| --- | --- |
| | View of Holy Cave as seen from out side |
View Pigeons In
Holy Cave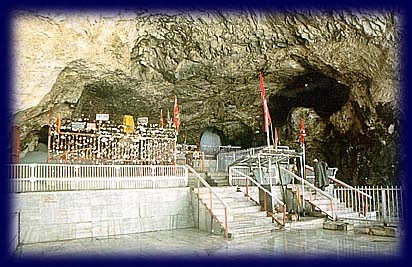 Inside View of Holy Cave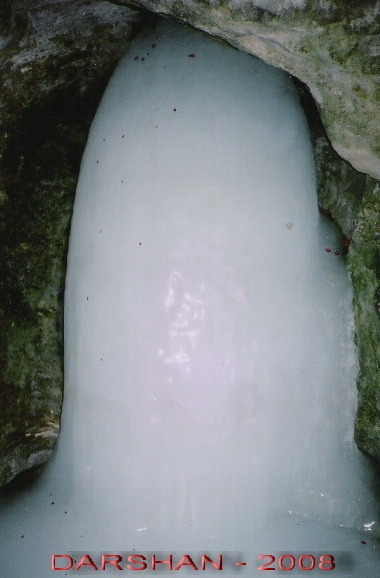 Darshan of Holy Shiva Lingam as on MAY - 2007
List of designated Branch of Jammu & Kashmir Bank Ltd.,
Andhra Pradesh

Hyderabad – Pather Ghatti, J.N.Road

Patna – Phulwari Sharief

Sector 17

Azadpur; Chandni Chowk; Naraina; Navin Shadara; Okhla; Rohini; South Extenison; Sarita Vihar; Vasant Vihar

Panaji

Ahmedabad; Baroda (Lal Bagh); Surat

Ambala Cantt; Gurgaon; Hissar; Karnal; Panipat;Rohtak

Dharmshala; Kullu; Shmla

Bangalore – SPJ Road; Infantry Road; Mysore

Kochi; Ernakularm; Thriuvananthapuram

Mumbai; Andheri (East); Kalbadevi, Mira Road, Vashi; Aurangabad; Nagpur; Pune

Bhopal; Indore

Amritsar - Shastri Market; Majith Mandi; Batala; Bathinda; Ferozepur; Jalandhar; Ludhiana; Khanna; Moga; Mohali; Mandi Gobind Garh; Mansa; Pathankot; Phagwara

Jaipur

Chennai – Mount Road; Parrys

Agra; Aligarh; Allahabad; Bhadoni; Greater Noida; Kanpur; Lucknow; Meerut; Muradabad; Noida; Varanasi

Kolkata- R.N. Mukherji Road, Mullick Bazar

Jammu – TRC Extension Counter; Rajori Jawahar Nagar ; Poonch – Main Branch; Kathua-Main Branch; Udhampur-Shakti Nagar ; Doda-Pul Doda

TRC Extension Counter

Bihar

Chandigarh (Union Territory)

Delhi

Goa

Gujarat

Haryana

Himachal Pradesh

Karnataka

Kerala

Maharashtra

Madhya Pradesh

Punjab

Rajasthan

Tamil Nadu

Uttar Pradesh

West Bengal

Jammu & Kashmir

Srinagar
Problems & Suggestions
All Intending yatries should take special note of the Following Points
Insurance: In View of the hazardous nature of the yatra, all yatries are advised to insure themselves, preferably before departure from the home stations. However, arrangements for insurance will also be available at the two base-camps during the yatra period.
Accommodation: In order to cater to the requirements of all yatries, tented accommodation with bedding facilities is being set-up by the J&K Tourism Development Corporation and private parties during the yatra period for use on payment basis. Facilities for booking such accommodation at rates approved by the State Tourism Department will be available at the base-camps.
Personal effects: Because of the weather conditions, which can often be wet and cold during the yatra period, yatries are advised to carry rain coats, woollens , umbrellas, walking sticks , personal medical kits etc.The details are given in the Yatra Information Pamphlet.
Note : No yatri shall touch or tamper with Holy Lingam or/& place or throw anything on the Holy Lingam.
01. RESTRICTION ON PROVIDING FREE NIGHT SHELTERS TO PILGRIMS BY THE
N.G. O'S INSIDE LANGAR PREMISES.
The Director Tourism Kashmir has put the condition that "THE N.G.O. SHALL NOT PROVIDE ACCOMMODATION TO ANY YATRI WHETHER FREE OR ON PAYMENT BASIS INSIDE LANGAR PREMISES". This condition is illegal, unfair, arbitrary, dictatorial and unjustified by any stretch of imagination as this tantamount to interference in the religious affairs of Hindus. It will not be out of place to mention here that most of the pilgrims are financially poor and they are unable to manage even for the Bus/Rail fare. It is not possible for these poor pilgrims to stay in the private tents by spending large amount of money for night stays. Moreover, the very purpose of the N.G.O.'s to provide free night shelter to the poor pilgrims will be defeated if this condition is not withdrawn unconditionally. We would also like to stay here that to provide night shelters to the poor pilgrims by the N.G.O.'s is not a new thing rather, it is an old age long practice. We lodge our strong protest against this condition and strongly demand that this condition should be withdrawn immediately. However, we shall have no objection on this condition if the J&K Tourism / J&K Gov. makes adequate arrangements for providing night shelters to the pilgrims free of cost.
02. FIXATION OF 25 SEWADARS AT EACH LANGAR & TRANSPORTATION OF LANGAR MATERAIL ALONG WITH SEWADARS IN ONEGO WITH ORIGINAL COPY OF LANGAR PERMISSION.
The Director Tourism Kashmir has inserted few new conditions such as "NO PHOTOCOPIES OF THIS PERMISSION SHALL BE ACCEPTED/ENTERTAINED BY THE YATRA OFFICER(s)." vide condition no.1, "THE N.G.O. SHALL PROCEED TO THE LANGAR SITE ALONG WITH MEN AND MATERIAL IN ONE GO WITH THE ORIGINAL COPY OF THE LANGAR PERMISSION TO AVOID ANY INCONVINENCE" vide condition no.3 and "THE N.G.O. SHALL FURNISH THE PARTICULARS OF SEWADARS ALONG WITH THEIR PHOTOGRAPHS TO THE DIRECTOR TOURISM, JAMMU FOR ISSUENCE OF PASSES/IDENTITY CARDS BUT THE NUMBERS OF SEWADARS SHALL IN NO CASE EXCEED THE PRESCRIBED CEILING OF 25 (TWENTY FIVE)" vide condition no.7 of THE PERMISSION LETTER FOR LANGAR ISSUED TO THE N.G.O.'s dated 10-06-2002. Condition no.1 is wrong and we demand and suggest that photocopy of the langar permission attested by the office bearers of the concerned N.G.O. should be accepted by the Yatra Officer. Fixation of the number of sewadars to a maximum of 25 should be withdrawn and the old practice should be continued i.e. at least 100 Sewadars should be allowed and their registration/permission should also be done by the J&K Bank and with open date as has been the past practice as these conditions are not justified and reasonable by any stretch of imagination as the arrangement of Langar is 45-50 days affair and very few people can afford to spent these many days. As a matter of fact the organizers and sewadars manage this affair by dividing it in 3-4 groups each spending 12-16 days moreover, the organizers/office bearers have to go to Langar site from their native place 2-3 times during this whole affair. Above all it is not only difficult rather impossible to plan and carry the Langar material in one go. We lodge our strong protest against these arbitrary, dictatorial and illegal conditions and demand that these should be withdrawn unconditionally, immediately .
03. PERMISSION TO ORGANISE LANGARS AND ALLOCATION OF SITE
We have observed in the past that the permission for organising Langar is given very late and site number/site plan is not allocated/attached along with permission. We suggest that the Permission to Organise Langars should be given at least 60 days before the commencemence of yatra along with specified site number and the copy of site plan - so that langar organisations may plan to carry their materials in advance at pre-decided sites. Last year the permission to organise langar was granted by The Director Tourism whereas no site was specified. The site number was given by the Dy. Commissioner concerned and that too only on visiting the D.C.'s Office. We suggest that site number should be allotted and incorporated within the permission letter, so as avoid inconvenience to the Non Govt. Organisations. The original permission letter along with site number & copy of site plan should be sent through Registered AD/Courier. Moreover, automatic permission without seeking an application should be granted to all the NGOs' who have been organising langar for the last many years.
04. EARLY REGISTRATION & SIMPLIFICATION OF REGISTRATION PROCEDURE
We have observed that the procedure for registration of yatris is very complicated and the number of Registration Centers opened by the J & K Tourism for the registration of Yatris is only 7 (seven), which is very meager considering the size & population of the country. Moreover, the number of counters at Registration Centers are too less to cope up with the heavy rush. The process of registration of pilgrims should be started at least 3 months before the commencement of yatra to avoid heavy rush & unnecessary harassment to the yatris. We suggest that Registration procedure should be simplified and Registration Centers should be opened at each & every district of the Country. This will enable the people living in different parts of India to have an easy access to these registration Centers. We also request that on the spot registration should be done immediately and the number of registration counters should be increased - so that the yatris may not have to wait for days to get their registration slip. Moreover, proper arrangement of seats, drinking water & toilets should be made for the convenience of yatris at the registration Centers. Last year, yatris were forced to face lot many hardships in completing the registration formalities. The devotees of Bhagwan Shiv Shankar Ji (Shri Amarnath Yatris) were lathi charged at Registration Centers, TRC, Jammu number of times. Moreover, they were forced to sleep on roads as all the hotel accommodation was full to its capacity. We further suggest that registration of pilgrims should be done on line through Internet. This job should be entrusted to any reputed NGO. However, we offer our services for doing this job. It will not be out of place to mention here that we have already hosted our website on Shri Amarnath Yatra namely www.amarnathyatra.com. Ours was the first ever website on Shri Amarnath Yatra and thousands of pilgrims/devotees have already visited our website.
05. PUCCA SHELTERS
We have observed in the past that there is no arrangement of Pucca Shelters on the yatra route from Baltal/Chandanwari to Holy Cave and only temporary tented accommodation is being provided by the Non Government Organisations. In case of inclement weather - the rainy water seeps through these tents and almost all the belongings of Yatris and Langar Organisations become wet and it becomes almost impossible for the Yatris to survive in this utmost cold weather - as happened in 1996. In order to avoid re-occurrence of such tragedy, it is suggested that the J&K Government should construct Pucca Shelters in sufficient numbers at all the halts en route Yatra.
06. ALLOTMENT OF LAND TO LANGAR ORGANISATIONS
Keeping in view the above para - we strongly demand that the Langar Organisations should be allotted land by the State Government for the construction of Pucca Shelters FREE OF COST or at a nominal price. Anyhow, we are thankful to the J&K Govt. and Shri Amarnathji Shrine Board (SASB) for deciding to allot the land to the NGOS' for 10 years Management Contract as this will enable the Langar Organisations to construct Pucca Shelters for the safe & comfortable stay of yatris en route yatra and base camps. Moreover, a specific site must be provided to the NGOS' at the earliest. We suggest that an approved uniform design of shelters for all the NGOs' should be provided by the J&K Govt./SASB.
07. PROBLEM OF PONIES DURING CONCLUDING DAYS OF YATRA
It has been observed in the past that all the NGOs, who are organising langar at higher altitudes discontinue their services 4-5 days earlier than the actual concluding date of the yatra because during concluding days ponies are not available to transport their material back to their base camps. During the concluding days the security forces start sending their men and material to their base camps and they forcibly engaged all the ponies available on the spot. Therefore, there is no pony left for the NGOs. If all the NGOs leave earlier than the concluding date, then too much difficulties are rendered to the yatris because of non-availability of food, accommodation & medicines etc. The security forces may please be instructed not to engage ponies before the actual concluding date of the yatra so that the NGOs stay at their respective places to serve the yatris and they do not have any problem in transporting the material back to their base camps and security forces shall be last to leave their place.
08. PROPER FIXATION OF RATES OF RATION & FUEL MATERIAL
We have observed that last year, the rates fixed were very high. For example, the rate fixed for L.P.G. refill was more than Rs.900/- each at Panchtarni whereas in 1998 the rate was approx. Rs. 500/- and in 1997 the same was Rs. 300/-. The rate of more than Rs.900/- for one refill of LPG cannot be justified in any manner whatsoever. Similarly, the rate for kerosene oil was Rs.21/- at Panchtarni whereas the rate of the same was Rs.4.50 per liter at Baltal. Other items such as Wheat floor, Rice, sugar, fire wood etc. were also fixed on higher side. We suggest that the rates should be fixed reasonably as the NGOs use these items for the benefit of the yatris. On enquiry, we have reliably come to know that the charges are fixed on the higher side because the materials are transported from the Chandanwari side instead of Baltal side (which is shorter route) and transportation cost is added on the basis of pony/pithoo/labour charges from Chandanwari instead of Baltal. We suggest that the material should be transported to Panchtarni & Holy Cave from Baltal side where the Pony/pithoo/labour charges are less than half in comparison to pony/pithoo/labour charges from Chandanwari side. In case our this demand is accepted, the prices will automatically come down. Moreover, due to higher rates the sale of above said items remains very meager, which can be verified from the records of Food & Supply Deptt., thus resulting in huge loss to the State Govt. as the material has to be transported back.
09. SUPPLY OF RICE & WHEAT/WHEAT FLOUR AT BELOW POVERTY
RATE (BPR) BY GOVT. OF INDIA FOR SHRI AMARNATH JI YATRA We have been reliably given to understand that Govt. of India has been providing rice & wheat/wheat flour for Amarnath Yatra at BPR rates to J&K Govt. in thousands of tons, but the same is not being available to the yatris/NGOs at BPR rates. We suggest you to ensure that the above ration materials are supplied at BPR rates to the NGOs/yatris.
10. APPOINTMENT OF LIAISON OFFICER AT EACH CAMPING SITE
We have observed in the past that the NGOs as well as yatris have to face lot of inconvenience & hardships in the absence of one officer who can solve the problems of NGOs as well as yatris. We suggest that one such Liaison Officer must be appointed at each & every camping site, who should act as a bridge between NGOs/yatris and various departments of the Govt. linked with Shri Amarnathji Yatra.
11.CHARGING OF RENT FROM NGOS
Last year i.e. in yatra 2002, rent was charged from NGOs who have organised langar at Baltal - by Tehsildar Kangan, which is quite un-desirable & unjustified. We suggest that the charging of rent from NGOs should be done away with.
12. HARASSMENT OF PILGRIMS & NGOS' AT ZAKURA CHECK POST
Last year, pilgrims in general and NGOs in particular were harassed at Zakura Check Post by the J&K Police and the Distt. Administration. The pilgrims holding valid registration slips from Baltal route were denied to pass Zakura Check Post and were told to go through the Pahalgam route. Those pilgrims who insisted upon going via Baltal route were unduly detained for a large period of time before being allowed to proceed further. Moreover, even the office bearers of the NGOS' were denied to pass through Zakura Check Post and the registration slips of langar staff duly issued by the J&K Tourism were torn and the officers said that these are not valid yatra registration slips - for the reasons best known to the concerned officials. We suggest that pilgrims as well as NGOS' are not subjected to this type of illegal harassment and inconvenience.
13. POTABLE/DRINKING WATER
We have observed in the past that Potable water is not being sufficiently provided by the State Government to the yatris and Langar Organisations. Last year, we tried to provide filtered water to the yatris and for this purpose we purchased Eureka Forbes Aqua Guard Filters, but unfortunately they did not work properly due to the blockage due to small stones which came along with water. We therefore suggest that spring water (potable) from higher reaches should be provided to each Langar organisation as well Yatris en route yatra and base camps.
14. SUBSIDISED BUS FARE
Subsidized bus fares should be charged from yatris traveling from Jammu to Pahalgam/Chandanwari & Jammu to Srinagar/Sonamarg/Baltal. We have observed in the past that Taxi Fares/Bus Fares/Ponies charges - Pithoo (Labourer) were being fixed on very higher side but practically those yatris who bargained, pay much lesser rates and those who did not bargain were made to pay higher charges.
15. TOILETS & BATHROOMS
We have observed in the past that there is no proper arrangement being made for clean and separate toilets for Ladies and Gents. We have experienced that pits are dug and plastic sheet partitions are made but the front side is remains open. Moreover, neither the pits are cleaned nor anything is sprayed or put on to avoid foul smell. Also the Govt. has never made any provision of bathrooms. We suggest that clean and separate toilets for ladies and gents and in adequate numbers with solid partitions and also neat & clean bathrooms at least for lady yatris should be provided to yatris at Base Camps & en route Holy Cave. Last year, although the toilets were under construction, but the construction work was not completed till the last date of darshan because the construction work was started late. We request that this time the toilets and bathrooms should be made ready before the commencemence of yatra, 2003.
16. RESTRICTION OF PILGRIMS
We have noted in the past that J&K Government has fixed the number of pilgrims and in an effort to ensure that the total number of yatris does not exceed the fixed number. The J&K Tourism department/J&K Govt. resort to illegal, un-democratic & unjustified measures on the plea of SEN Committee recommendations. This results in unnecessary mental/physical harassment of the devotees and their religious sentiments also get hurt in the process. We kindly request your good self that there should be no restriction on the number of pilgrims and instead Government should make adequate arrangements for the yatra of any number of pilgrims. Ours is a democratic country with the population of more than 100 crores and every citizen of India has constitutional right to perform the yatra of his/her religion. In case, following of un-restricted number of yatris is impossible, the number fixed per day should be increased in a phased manner. We suggest that this year the number of yatris per day should be increased to 6500 i.e. 4500 from Pahalgam - Chandanwari and 2000 from Baltal. Next year, the number should be raised to 7500 and so on. We further suggest that registration procedure should be done away with finally, may be at a later stage and yatra slip system should be adopted as is being done at Shri Mata Vaishnoo Devi yatra.
17. ON THE SPOT/CURRENT REGISTRATION OF PILGRIMS
We have come to know that on the spot/current registration has been disallowed this year. We suggest that this decision should be withdrawn and on the spot/current registration of pilgrims must be done, as it is far more convenient for the pilgrims to Performa the yatra after on the spot/current registration, whereas it becomes very difficult for the pilgrims to first go to the registration centre for obtaining registration slip and then returning back to his place of his residence and then again going to perform yatra. For example a person from Simla/Manali/Chandigarh/Rajpura wants to perform yatra. First of all he will have to go to Jammu to obtain registration slip and then come back to his place of his residence i.e. Simla/Manali/Chandigarh/Rajpura and then again he will have to go to Jammu to perform yatra. Is this fair? We hope that you must agree with our genuine request and will allow on the spot/current registration for pilgrims.
18. PONIES & COOLIES
Adequate arrangements of ponies & coolies should be made and reasonable rates should be fixed to ensure smooth performing of yatra by the pilgrims.
19. INCREASE IN STD/PCO'S & COMPUTERISED BILLING
We are extremely thankful to the J&K Government for opening STD/PCO'S en route Amarnath Yatra, but we have observed that there is plenty of rush on the PCO'S and the yatris have to wait for hours in queue to make the calls. We kindly request to increase the number of PCO'S at each halt to at least 10 PCOs to facilitate the pilgrims to remain in contact with their family members. Moreover, computerized billing of calls must be made compulsory so as to ensure that yatris are not over charged.
20. PROVISION OF TELEPHONE CONNECTION
We request you to provide temporary telephone connections to Langar Organisations, so as to enable them to remain in regular contact with their base camps.
21. MEDICAL FACILITIES
We have experienced in the past that the medical facilities provided were insufficient and there was lack of proper medical equipments. Therefore, it is kindly requested that adequate medical facilities be provided along with qualified doctors at base camps & en route yatra so that any type of casualty can be avoided.
22. PROVISION OF LADY DOCTORS FOR FEMALE YATRIS
We have observed in past so many years that no provision of Lady Doctors has ever been made for the female yatris. It is pertinent to mention here that about 40% yatris are female. Therefore, it is necessary to depute Lady Doctors in all the medical camps arranged by the J & K Government.
23. REPRESENTATION TO NGOS IN SASB
It is a matter of joy that SASB has been constituted and our long pending demand has been accepted, but we have been requesting that representation should be given to NGOs in the SASB, so as to enable them to solve the problems being faced by the pilgrims as well as NGOs as the NGOs are aware of the problems at the grass root level. We suggest that at least 5 members should be nominated on the SASB from the different NGOs after ascertaining the credential of the NGOs.
24. PROVISION OF ELECTRICAL SUPPLY
We have observed in the past that there is no provision of Electricity/Power supply en route yatra and yatris have to face lot of inconvenience due to non-availability of power supply. Moreover, the Langar Organisations have to make their own arrangements for the generation of Electricity/Power supply, which is quite difficult on this tough terrain, as in case of break down in the Gensets there is no availability of Mechanic and Spare Parts. Anyhow, we are thankful to the J&K Govt. and SASB for assuring to provide Mechanics en route yatra at nominal charge. We further suggest that this basic and very essential requirement should be fulfilled by the J&K Government.
25. PROVISION OF HELICOPTER FACILITY
We have come to know through press that in 2000 the J&K Government had decided to introduce Helicopter service to aged, physically handicapped and sick pilgrims for visiting Vaishno Devi Temple and we request you to provide similar service for Amarnath yatris.
26. AGENDA & MINUTES OF MEETINGS BEING CONDUCTED BY THE JAMMU & KASHMIR TOURISM & SASB WITH LANGAR ORGANISATIONS
We have observed in the past that the meetings with the Langar Organisations are called by the State Govt. at a very short notice and that too without any agenda. In order to make these meetings fruitful, we suggest that the intimation of these meetings should be given sufficiently in advance along with agenda and on the spot decisions should be taken. Minutes of the meeting should be recorded and circulated to Langar Organisations within a reasonable time frame. Last year no such meeting was held by the J&K Govt. with the NGOs' engaged in organising langars. Only one such meeting was held and that too with a person who does not organise any langar anywhere and has created a self styled body which is non representative in character. We suggest that whenever such meeting(s) are held, each and every NGO should be invited. The meetings with the NGOS' should be held in the month of the January/February every year i.e. before holding the meetings of J&K Govt./SASB and the views of the NGOS' should be considered in the meetings of the J&K Govt. and SASB. Moreover, NGOS' should also be invited in the meetings of J&K Govt. & SASB, so as to provide them (NGOS) the opportunity to present their views.
27. AVAILABILITY OF RATION & FUEL MATERIAL
We have observed in the past that ration and fuel material being supplied by the Food & Supplies department of the State Government to the yatris and Langar Organisations are inadequate & short in supply. We suggest that adequate arrangements should be made for the supply of Ration & Fuel material for yatris and Langar Organisations.
28. WIDENING AND CONSTRUCTION OF PUCCA ROAD ON YATRA ROUTE FROM BALTAL / CHANDANWARI TO HOLY CAVE
We are of the considered opinion that the Yatra route from Baltal/Chandanwari to Holy Cave is too NARROW and MUDDY. Keeping in view the increasing number of yatris every year - we suggest that the above stated routes should be widened enough and concrete road should be constructed on the pattern of SHRI MATA VAISHNO DEVI ROUTE - so as to avoid any loss of life of the yatris.
29. FENCING OF YATRA ROUTE
In order to avoid any mishap during the yatra, we suggest the entire yatra route i.e. from Chandanwari & Baltal to Holy Cave should be properly fenced with concrete/stone and steel railings/grills/pipes. In case fencing of entire route is not possible immediately this year, at least those portions where the track is narrow & slippery - must be fenced before the commencement of yatra this year (2002).
30. CONSTRUCTION OF METALED ROADS FROM RANGA TO BALTAL & PAHALGAM TO CHANDANWARI
We have observed in the past that the roads from Ranga to Baltal and Pahalgam to Chandanwari are NARROW and MUDDY. As and when it rains - which normally happens during the yatra days - these NARROW and MUDDY roads become slippery and it becomes very difficult, sometimes rather impossible for the vehicles and yatris to move on these roads. We strongly suggest that these roads should be widened and metaled well before the commencement of Yatra.
31. CONSTRUCTION OF METALED ROADS FROM ANANTNAG TO PAHALGAM & SRINAGAR TO RANGA VIA SONAMARG
We have observed in the past that the condition of roads from Anantnag to Pahalgam and Srinagar to Ranga via Sonamarg remain in bad condition at the time of yatra. It is very dangerous and risky for the yatris and vehicles to move on these roads. Sometimes, the repair/black topping work is being done during the Yatra period. It creates traffic problem and takes lot of time to reach the destination. We suggest that the construction/black topping work of these roads must be completed well before the commencement of Yatra.
32. CHARGING OF TOLL TAX FROM THE YATRA & LANGAR VEHICLES
The Excise & Taxation Department of the J&K Govt. is charging Toll Tax at different places from yatris who are traveling in their own conveyance and the vehicles carrying langar material, which is uncalled for. This should be done away with and no Toll Tax should be charged from yatra & langar vehicles at any station/barrier.
33. HARASSMENT OF LANGAR VEHICLES AT LAKHANPUR BORDER
The staff of the Excise & Taxation Deptt. at Lakhanpur Border unnecessarily harass the vehicles carrying langar material on one pretext or the other even when they are having requisite permission. This harassment is being done to exhort extra money apart from the Toll Tax from the langar vehicles. In this regard, we were assured during the meeting held on 21.05.2001 that matter shall be taken up with the concerned deptt. and there will be no harassment in the future. We once again request to take up the matter with the Excise & Taxation Deptt. and it must be ensured that no vehicle carrying langar material is harassed.
34. SECURITY ARRANGEMENTS
Large number of innocent pilgrims & other people were brutally massacred by extremists at Pahalgam on 1st August, 2000 and last year also one such incident took place at Sheshnag. These type of incidents had exposed the loop-holes in the security arrangements made by the J&K government. We demand that fool proof security arrangements should be made and it must be ensured that such type of incidents do not occur in future.
35. LATHI CHARGE ON PILGRIMS
It is a matter of great concern that yatris who were waiting for completing the registration formalities were lathi charged by the J&K Police at Registration Centers, Tourist Centre, Jammu during Shri Amarnath Yatra 2000 & 2001. This situation occurred due to inefficiency & inadequate arrangement of J&K Govt. It is suggested that appropriate arrangements should be made to avoid re-occurrence of such type of ugly incidents.
36. OPENING OF SAMBA-MANSAR-UDHAMPUR ROAD FOR YATRA & LANGAR VEHICLES
In the past yatra and langar vehicles were not being allowed to reach Udhampur via above route in spite of the fact that this route is shorter by more than 50 Kms. We suggest that this route should be opened for yatra as well as langar vehicles as on the one hand this will enable the yatris & langar vehicles to reach Udhampur early and on the other hand the unnecessary heavy traffic at Jammu shall be avoided.
37. SHIFTING OF BASE CAMP FROM NAGROTA TO UDHAMPUR
Keeping in view the above para, we suggest that base camp of Nagrota should be shifted to Udhampur as Udhampur is the common place for yatris - whether they go from Jammu side or from Samba/Mansar/Udhampur road.
38. SHIFTING OF BASE CAMP FROM PAHALGAM TO NUNWAN
We have been informed that base camp of Pahalgam has been shifted to Nunwan due to security reasons. In this regard, we have to state that we have no objection in the shifting of above base camp. We suggest that even if this site is un-secured, the base camp may be shifted to some other place keeping in view the security aspects, but it must be ensured that Bus/Car Stand is situated very near to the langar sites, so that the yatris are not forced to cover a long distance on foot and there is a fool proof security arrangements.
39. TRANSPORTATION OF LANGAR MATERIALS
Government should allow Langar organisations to take their materials to site of langar without any interruption. We have experienced in the past that langar organisations find it very difficult to carry their langar material to higher altitude near Holy Cave or Panchtarni. Therefore, we kindly request that langar materials should be transported by the Government helicopters at a subsidized or nominal transportation charges.
40. HARASSMENT OF NGOS BY SH. PARBHAT SINGH SUPDT.OF POLICE (YATRA) J & K POLICE
With a heavy heart, we would like to bring to your kind notice that Mr. Parbhat Singh, Superintendent of Police (Yatra), who reached Panchtarni along with Chharri Mubarak on 03.08.2001 came to our bhandara in a heavily drunkard condition (under the influence of liquor) on 04.08.2001 at about 10.30PM and committed the following atrocities and that too without any provocation and reasoning :-
He straight away tried to pull down the office tent of the bhandara, where the trust President, Rajan Gupta and Bhandara In charge, Mr. Ramesh Bhatia were sitting. He abused and used very vulgar & filthy language. He pushed and manhandled President & Bhandara In charge. He threatened of dire consequences to the office bearers of our organisation. He also went to another Bhandara namely Om Shiv Shakti Sewa Mandal (Regd.) of Cheeka & Delhi and abused & manhandled the office bearers of the said bhandara. He snatched and threw away the food plates from sewadars & yatris, who were having their dinner. He continued his rampage and pulled down the tent of J&K Fire Service adjoining our bhandara. All this was done in the presence of 7 Jawans & 1 Inspector of the CRPF, who were deputed by the Commandant of the CRPF,Mr. Daya Ram for the security of the Office bearers, Sewadars of both the bhandaras and yatris. Apart from the above, the Sub Inspector and Asstt. Sub Inspector along with few Jawans of the J&K Police were also present at the time of incident. As this was not enough to satisfy his ego, he again manhandled the office bearers of our organisation and lathi charged the sewadars in the presence of Mr. Karamjit Singh - Yatra Officer in the morning of 05.08.2001 when the sewadars of both of the bhandaras were raising peaceful protest in a democratic manner. In nutshell, he behaved in such a manner as he was dealing with criminals or militants totally ignoring the fact that we the sewadars of Yatries of Almighty Lord Bhole Nath, who have left our homes for about 40 days and that too without any financial consideration. He created such a terror that no one could sleep for whole of night. It was in fact a frightful night. He was not ready to listen to anyone despite repeated requests by the Office Bearers and Sewadars of both the bhandaras. He grossly misused his official position. Mr. Karamjit Singh-Yatra Officer, in whose presence Mr. Parbhat Singh, S.P. (Yatra) has misbehaved and lathi charged on 05.08.2001, apologized and assured to report the matter to the higher authorities and also assured sternest possible action against Mr. Parbhat Singh, S.P. (Yatra).
It will not be out of place to mention here that our above said two bhandaras were the only ones, which were present in the whole of the Panchtarni for providing the boarding & lodging facilities to the yatris up to the last moment, as all the other bhandaras and even private tents (Camping Agencies) had left Panchtarni much earlier. We would also like to add here that there was no reason at all for provocation. All the para-military, Military forces, Officers of the J&K Police and other officials of the Govt. departments posted at Panchtarni are aware of this incident. This type of misbehavior and that too from the rank of Superintendent of Police is un-expected, un-desirable, un-justified and un-called for and that too in a drunkard position, at duty and that too at a Holy place where consumption of liquor is banned both morally and legally. We suggest that sternest possible action must be taken against the said official and necessary directions may kindly be issued so as to ensure that such type of incidents does not occur in future.


For BHOLE BHANDARI CHARITABLE TRUST (REGD.)
( RAJAN GUPTA )
PRESIDENT
Trust Information

But it is a fact that

" Servers are Born not Made"

' To Serve' or 'To Help others' is something which is an inbuilt element of humanity. It can be expressed in many and Innumerable forms viz. serving the nation, serving the handicapped, Serving the poor, serving the pilgrims etc.
It is with this spirit only that the trustees of this organisation who were serving people informally through association with different Non-Government Charitable Organisations since last two decades felt the necessity to establish a formal organisation with a defined motive . The 1996 tragedy which cost lives of numberless pilgrims marching towards the Holy Cave became the cause of immediate motivation. As a matter of fact most of the trustees were also performing the yatra when the 1996 tragedy took place. The spirit to serve the yatris got strengthened with more vigour after facing the terrible conditions & circumstances by the now trust members along with the other yatris .
So it was in 1997 that the members who were scattered, finally united under the banner "Bhole Bhandari Sewa Sangathan". In 1999 this took the shape of "Bhole Bhandari Charitable Trust (Regd.)" and is now serving under the guidance of Mr. Rajan Gupta with whole hearted support from members.

Visiting Amaranth Ji, a Holy Cave, which in itself arouse a divine spirit among the yatris, is certainly like attaining 'Moksha', in real terms. The yatris have to under go difficulties and tantrums during the Yatra / pilgrimage. There number is growing every year . The trust took a decision to help the Yatris / pilgrims in their problems, that too, totally free of cost. Some of the services rendered by the Trust, for general information is listed below :

1. Arranging Community Kitchens totally free of cost to the pilgrims.
So far, the trust has performed community kitchens at the following places:
1997 – Chandanwadi & Panchtarni.
1998 – Baltal.
1999 – Baltal & Panchtarni.
2000 – Panchtarni & Baltal.
2001 – Panchtarni & Baltal.
2002 – Panchtarni & Baltal.
2003 – Panchtarni & Baltal.
2004 – Panchtarni & Baltal.
2005 – Panchtarni & Baltal.
2006 – Panchtarni & Baltal.
2007 – Panchtarni & Baltal.
2008 – Will be at Panchtarni & Baltal.

2. Providing tented accomodation along with all necessary amenities viz. blankets, general medicines etc. to all the pilgrims.

3. To provide and furnish full information about the Amarnath Yatra.

4. Taking up the Grievances / Complaints of the pilgrims along with constructive suggestions with the State / Central govt. at the highest level. Grievances / Complaints

And many more…..

VISION:-
BHOLE BHANDARI CHARITABLE TRUST (REGD.) is planning to construct concrete / rain / snow shelter halls and separate toilets for Ladies & Gents at Chandanwari, Baltal & Panchtarni.

SERVING THE NATION: -
The Trust, contributed a sum of Rs. 31,000/- (Rupees Thirty one Thousand only) towards PRIME-MINISTER'S RELIEF FUND and also helped Para Military forces by providing them food-packets and by boosting their morale during Kargil war in 1999 and is firmly dedicated to the service of the nation in all ways it can.
The Trust contributed a sum of Rs. 21000/- (Rupees Twenty one Thousand only) towards the PRIME MINISTER RELIEF FUND for the victims of Gujrat Earthquake.

Members of the Trust :

Designation

Name

Address

Telephone No.

President

Rajan Gupta

J. K. Cycles,
E-316, Phase IV-A, Focal Point, Ludhiana.

(O) 2670800
(R)2442327,2442341
Mobile :- 3117289

Vice President

Bharat Bhushan 'Bharti'

International Racing
Gears Pvt.Ltd.,
B - 50/51, Phase VII ,Focal Point ,
Ludhiana.

(O) 2672657,5025271
(R) 2660737,2609110
Mobile :- 3116851

General Secretary

Rajesh Marwaha

Harrison Paint Industries,
Plot Nop. 5, Industrial Area A, Ludhiana.

(O) 2662298,2668764
(R) 2603924

Finance Secretary

Om Pal Thapar

Thapar Udyog (India),
St. No - 3, New Kartar Nagar, Ludhiana

( O & R ) 2492387
Mobile :- 9814112287

Secretary

Harish Dua

J.D. Textiles,
Plot No 6, Mohindra Enclave,
Moti Nagar,
Ludhiana

(O) 5108268, 2608268
(R) 2403126

Kewal Kapoor

Rashtrya Mechanical works,
K - 90, Phase VII , Focal Point Ludhiana

(O) 5086516
(R) 2662080
Mobile :- 9814120850

Jt. Secretary

Mukesh Thapar

Mukesh Textiles,
B - XXIII 2894, Link Road,
Ludhiana

(O) 2606686
(R) 2572356

Rakesh Marwaha

Asha Paint and Chemicals,
711, Janak Puri St No. 4,
Ludhiana

(O)2668764
(R)2603924
Mobile :- 9814098280

Shashi Bhushan

HM 80 Jamalpur Colony Ludhiana

(M) 9815090780

(R) 2677780

Jt. Finance Secretary

Pawan Kumar Dhingra

Dhingra Cloth House,
Muradabad (U.P.)

(O) 2327413
(R) 2310524

Bhandara Incharge

Bhushan Pabbi

H. No. 991,
Near Sardar Flour Mills,
Haibowal Kalan,
Ludhiana.

(R) 2475125

Ramesh Bhatia

M/s Bhatia Auto Mobiles,
Iqbal Ganj Chowk,
Ludhiana.

(R) 2668813
Mobile :- 9814655349

Press Secretary

Vinod Mahindra

689, Vishwa Mitter Lane, Civil Lines, Ludhiana .

(O & R ) 2442222, 2449507

Prapoganda Secretary

Parveen Goel

(O) 2533615
(R) 2470583
Mobile :- 9814120815

Navdeep Jindal

(O) 4620353
(R) 2301568
Mobile :- 9216253053

Patrons

Kailash Goenka

Ludhiana Beverages Ltd.

Surinder Goel

(O) 2677001
(R) 2709878

Sunil Gupta

Jammu (J & K)

(O) 0191-2560561
(M) 09419187714

Subhash Garg

(O) 2501285
(R) 2490285

Rama Monga

(O) 2501285
(R) 2606135

G.B. Mital

New Delhi

(O) 23278625
(R) 23284836

Beneficial Advertisements,

< Click below on the images to check their Web-Sites. >

HinduOfUniverse (Special Partner)

Services: Domain Registration, Web Hosting, Resellers
Visit : http://www.zones.in

The Only Web-Site For Suthar Samaj
Visit : http://www.sutharsamaj.com

Space Available for Advertisements

Contact: +92-03333130724

Space Available for Advertisements

Contact: +92-03333130724

Space Available for Advertisements

Contact: +92-03333130724

Space Available for Advertisements

Contact: +92-03333130724

Space Available for Advertisements

Contact: +92-03333130724

Space Available for Advertisements

Contact: +92-03333130724

Space Available for Advertisements

Contact: +92-03333130724

Space Available for Advertisements

Contact: +92-03333130724

Space Available for Advertisements

Contact: +92-03333130724

Space Available for Advertisements

Contact: +92-03333130724
Ashok khemani

(Chief Executive)

Vikas Madaan (Special Partner)

(Director)